PEKANBARU VOICE – Rocky Gerung held a discussion on democracy which creates equality for men and women to be able to participate in politics.
The lack of roles from women is of particular concern to those who wish to express their work in the world of politics.
This was when Rocky Gerung was having a discussion with several government officials when he was a guest speaker at the 2nd Anniversary of the Indonesian Sarekat Democracy Party (SDI).
The SDI Party's birthday event was held at the Husni Hamid Hall of the Karawang Regional Government Office (PEMDA) on Saturday (10/6/2023) from 13.00 WIB.
Also Read:Thomas Doll: After Two Weeks, Finally Can Make a Good Play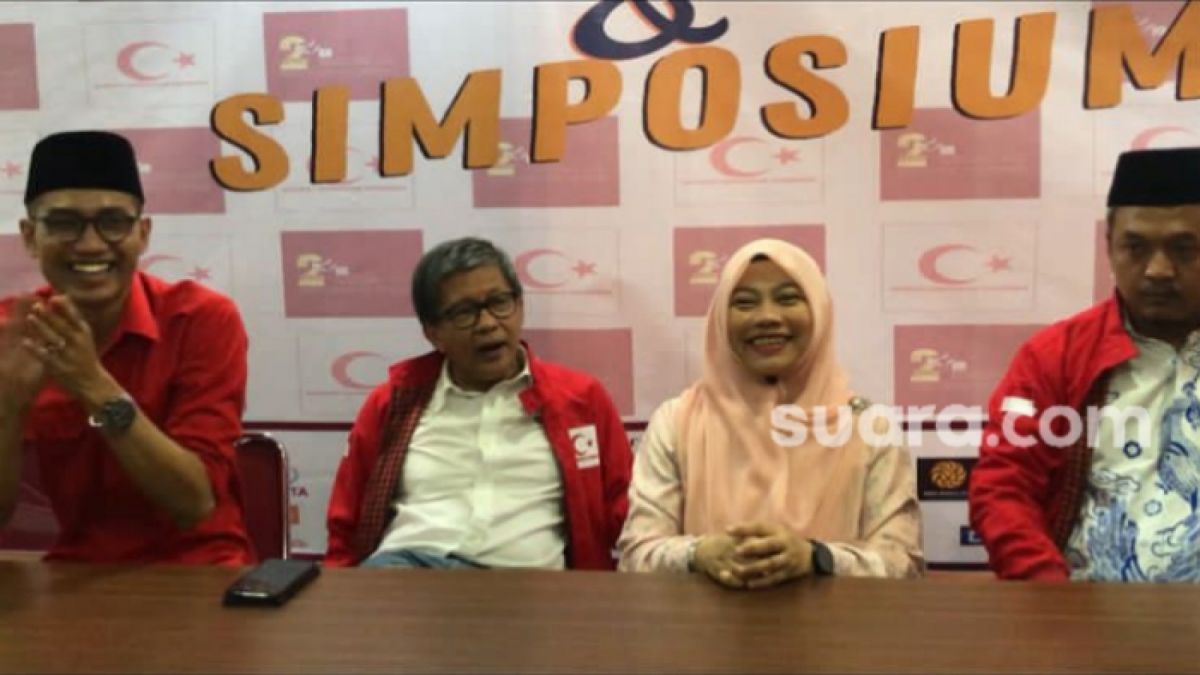 Press conference Rocky Gerung and other speakers at the anniversary of the Indonesian Democratic Sarekat Party. (source: Suara.com/Hilal Aulia Pasha)
The theme taken is "Democracy for Whom?" and was attended by the Regent of Karawang, Cellica Nurachadiana, members of the DPRI RI, Princess Komarudin, Commission III DPR RI, Saan Mustofa and other figures.
Secretary General of the SDI Party, Salsabila, one of the activists, Titi Anggraini and also Cellica questioned the issue of women's rations to participate in politics.
The quota of women counted in government is only 30 percent. Of course, this ration is what triggers feminism.
However, Rocky Gerung denied this idea that women were told to work alone to be able to work.
"Earlier, Salsa explained that the 30 percent quota for women was ordered to fight alone, right! The 30 percent quota ensures that women are not disturbed, why is that?" explained Rocky Gerung.
Also Read: 75-year-old candidate for Hajj from Sumenep Dies in Mecca due to illness
Even though Rocky Gerung understood that women were always considered oppressed because their brains could not develop. This statement was called an insult.
"Women are children who grow up. Their bodies don't develop, their brains don't, that's an insult," said Rocky.
The political observer finally used democratic principles based on rights. Especially from women.
"So it's not that I'm defending women, but I'm defending rights in democratic principles. Because I want all principles to work on and adopt an ethic of care," she explained.
He explained, the largest number of mathematics professors in the world came from among women. Making the role of men considered inadequate.
It turns out that what is needed for women to be able to participate in politics is equality in argumentation which can create gender equality.
"That the equality of argumentation that becomes our equation as women is only for the sake of equality of argumentation," she emphasized.
What's more, Rocky Gerung supports the tagline used by the SDI Party, namely "Freedom, equality, brotherhood".
These three principles can create the basic rationale of democracy and are related to avoiding gender differences in terms of degree.