Suara.com – The Indonesian national team received good news in the midst of preparations for the two June 2023 FIFA Matchday matches against Palestine and Argentina. The Garuda squad arrives with new ammunition.
This was conveyed by Shin Tae-yong's assistant in the Indonesian national team, Nova Arianto. He reported that the Red and White team was now reinforced by Elkan Baggott.
The Indonesian national team has been training at Thor Field, Surabaya since Monday (5/6/2023). However, not all of the 26 players summoned have arrived yet.
Now, a wave of arrivals of players, especially those with careers overseas, are starting to arrive, one of them is Elkan Baggott.
Also Read: Ignoring the Opportunity to Play for Tokyo Verdy, Arhan Chooses to Strengthen the Indonesian National Team Against Argentina
Elkan Baggott is a player for League One or the third caste of the Premier League, Cheltenham Town FC. He played there on loan from Ipswich Town.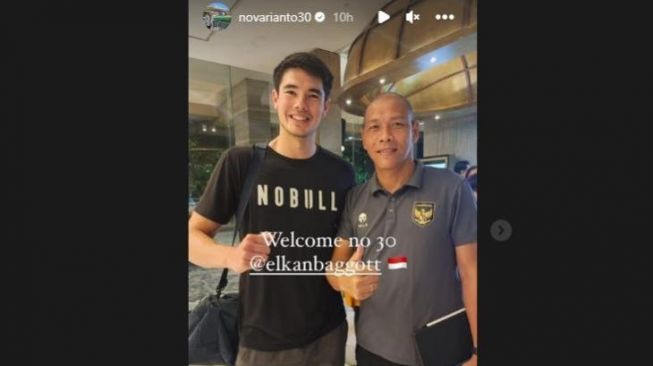 Nova Arianto confirmed that Elkan Baggott had joined the Indonesian National Team (Instagram/novaarianto30)
Nova Arianto immortalized Elkan Baggott's arrival to the Indonesian national team squad via his upload on Instagram Story, @novaarianto30.
Shin Tae-yong's assistant was wearing a polo shirt with the Garuda logo on his chest. Meanwhile, Elkan Baggott appeared to be wearing a black T-shirt with the words Nobull while opposing the bag. In the caption, Nova welcomes Elkan Baggott.
"Welcome no 30 @elkanbaggott (Indonesian flag)." wrote @novaarianto30 quoted from BolaTimes–the network Suara.comFriday (9/6/2023).
Elkan Baggott's presence has added new ammunition to the Indonesian National Team ahead of the June 2023 FIFA Matchday.
Also Read: FACT CHECK: 2 Persija Jakarta players have been crossed out of the Indonesian National Team, what is the reason?
Later, the Garuda squad will compete against Palestine on June 14, 2023. Continue against Argentina on June 19, 2023.