Forrest Gump He said that "life is like a box of chocolates, you never know which one you're going to get" and he was right. However, I think the sentence can be updated to a more current version 2.0: life is like a box of Bertie Bott All Flavors Drageesyou never know the shit or the delight that is going to touch you.
The Video Game Industry it resembles a box of Bertie Bott Lozenges more than a box of chocolates, since chocolates don't give as many bad drinks as video games have of late. And nobody put their hands on my head! We have had a season of very questionable games and of disastrous pitches with some punctual joy. What has been said: dragees = games.
In this context of tension and questionable releases, my stronghold and safe zone has been Destiny 2. We all have that video game that we return to when nothing works or when we have existential crises about what to play. And even then I was kind of tired and bored… until I came across Diablo IV.
Diablo IV: I have responded to Lilith's call and Sanctuary has seduced me hopelessly
I didn't plan on playing Diablo IV. I racked up 10-20 hours in Diablo III before the physical version literally ended up on the shelf, maybe too soon. I'm not proud of the reason: I don't feel comfortable playing video games with a keyboard and mouse that I can spend many hours at a time. And before you throw the tomatoes at me, remember what I do.
I felt the call of Diablo again with this delivery. I thought that dissatisfaction with the recent releases and my lack of confidence in the new installments would be enough to avoid risking it again, but my illusion is not so easy to turn off and I gradually gave in: first they told me that the PS5 version was turbo cool, after he remote control is very satisfactory and I finally remembered that it has crossplay.
On Friday of last week (June 2) I started looking at the Store the PS5 like a wolf that feels the ground and watches its prey. He comforted me knowing that the deluxe edition It cost 99 euros and it helped to carry out a brief internal negotiation: "I wait for June 6 and I get the Standard Edition. While I settle for watching live shows on Twitch." I just want to tell you that lying to yourselves is very wrong.
On Saturday, bored with Destiny 2 and with a heated sovereign, I thought: why wait for 6? If above this week is the Summer Game Fest and I'm not going to have time to complain about the conferences. My logic was irrefutable and I ended up buying the Diablo IV Deluxe Edition. It was the beginning of the end.
I'm not going to be a victim: I knew how well he was throwing me. I have a HUGE capacity for get hooked to this type of games and lose track of time. I started playing at 9:00 p.m. on Saturday, I finished the first game session at 6:00 a.m. on Sunday, I slept for 5 hours, at around 12:30 p.m. I turned on the PS5 again and did not turn it off until 11:40 p.m. He ate sitting at the inn between missions.
At the time of writing this, PS5 says that I carry 18 hours played and my Necromancer is Level 36. Things will have changed a lot at the time of publishing. And yes, Diablo IV with a controller is a real joy, especially since I can play lying on my chair or bed. The only problem I've had has been ONE crash.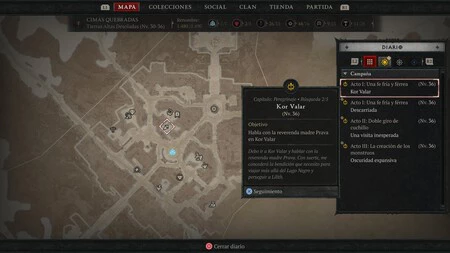 And if you thought I've dropped the best bombs, here comes the best: I'm Level 36 and I haven't even finished the Act I quest thread, specifically I go for the mission "A cold and iron faith". As I have been told, should move forward a bit. And what have I done for 18 hours? Side quests, all the dungeons and mini-dungeons I've found, world events, exploring, talking to any NPC I can… By doing a couple of synergies, I've managed to have a mini-army of 10 skeletons with my necromancer
I am enjoying a lot with Diablo IV Because it's cool and it's been a real surprise: I didn't expect it or plan to play it. Now I can't think of anything else: I want to know how the story progresses, what the rest of the areas on the map are like, how much power my Necromancer can reach and learn more… maybe if I stop getting distracted by every public event I can move forward.
I think it's a good time to finish posting and return to Diablo IV. Lilith calls me and I am unable to resist her singing. If she catches your eye and you like this type of game, I recommend giving it a try. If you are already enjoying Diablo IV, then I can only tell you: See you in Sanctuary! And before I go: how was your experience starting Diablo IV? What class did you choose? Tell me in comments.
In ExtraLife | The best Diablo IV-style board games: swords, dungeons and classes to hold until the new Activision Blizzard
In ExtraLife | This interactive Diablo 4 map has all the altars, chests and secrets so you can find the location you are looking for in seconds
In ExtraLife | Diablo 4 server crash: how to fix connection problems in Blizzard's new Diablo