Suara.com – Hankook Tire from South Korea is a tire supplier and official technical partner for the 2023 ABB Formula E World Championship electric single seater world championship. E 2023 Jakarta.
Season 9 2022/2023 ABB FIA Formula E held a double-header, namely Round 10 and Round 11 at the Jakarta International E-Prix Circuit (JIEC), Ancol Carnaval Beach, North Jakarta.
By holding a race in the coastal area, Hankook iON Race Tire is ready to show performance in accompanying the racing mounts of 22 Formula E drivers who fight under hot weather.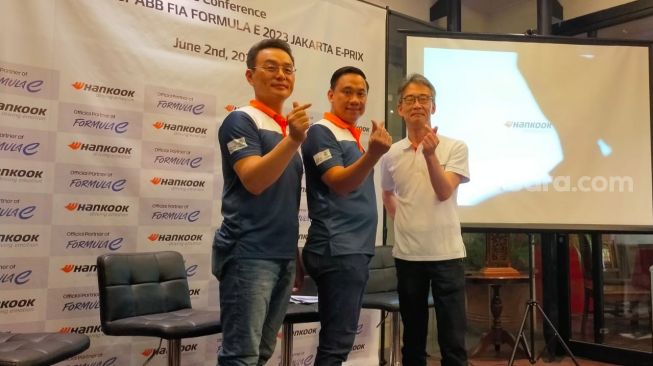 Yoonsoo Shin (Managing director of PT Hankook Tire Sales Indonesia), Apriyanto Yuwono (National Sales manager of PCR PT Hankook Tire Sales Indonesia), and James Kim (Vice President of Motorsports Marketing Hankook Tire) (Suara.com/cNR ukirsari).
"The extremely high temperature of around 35 degrees Celsius and humidity above 80 percent is definitely one of the factors that the team has to consider when working with our premium product, the Hankook iON Race. So far, in all races, Hankook tires have demonstrated their reliability in supporting the drivers. ," explains Felix Kinser, Director of Communications for Hankook.
Also Read: Asnawi Mangkualam: The Indonesian League is Far Behind from South Korea
In a press conference in Jakarta on Friday (2/6/2023), James Kim, Vice President of Motorsports Marketing for Hankook Tire also expressed a similar view.
"This 2.3 km long circuit faces the coast, unique as well as challenging. The temperatures are high and the racers have to devour 18 corners which demand high precision," he explained.
The specifications for this racing tire are the recycle Hankook iON Race Tire dimensions 225/40R18 (front) and 315/40R18 (rear), which are recycled after the race weekend. And tires with environmentally friendly principles made by Hankook have been used to compete in Mexico, Saudi Arabia, India, South Africa, Brazil, Germany, and Monaco.
The JIEC layout is inspired by the horseshoe and will be bulldozed clockwise. In addition to the 600 m start or finish straight, the 2,370 km circuit features slow, medium and very fast corners.
Turn 1 is a long right hander, offering plenty of overtaking opportunities. Hairpin or turn 13, is the heaviest braking zone and is followed by a sharp turn to the right. Turn 16 turns outside and is the activation zone for Attack Mode.
Also Read: Racers Undergo Formula E Jakarta 2023 Free Practice Session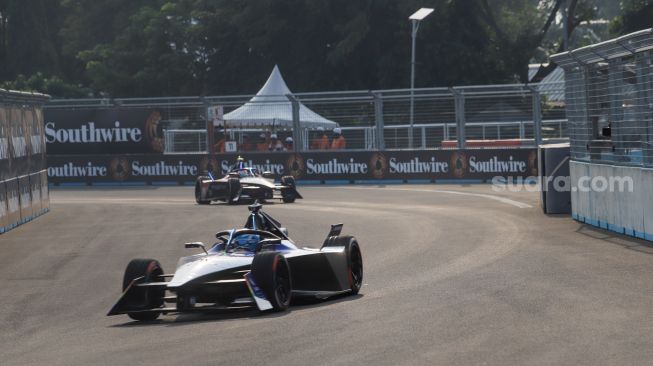 The first free practice (FP1) of Formula E Jakarta, at the Jakarta International E-Prix Circuit (JIEC), Jakarta, Friday (2/6/2023). (Suara.com/Alfian Winanto)
Talking about environmentally friendly tires for Formula E racing, Yoonsoo Shin, Managing Director of PT Hankook Tire Sales Indonesia, said that his company has been producing tires for daily use, especially for Electric Vehicles (EV).