I'll tell you about the fifth and sixth rounds of the Italian Motorally Championship which took place in Umbertide, in Umbria
June 7, 2023
The weather has really given it its all to blow up this important appointment on the calendar, but the Moto Club Fratta and the IMF, the Motorally sector coordinated by Antonio Assirelli, must be acknowledged for having performed the miracle.
The staff worked all night to retrace the road book and avoid fords and impassable stretches. It came out a small race, but still beautiful and demanding for the 250 riders who arrived from all over Italy (but also from abroad, a sign of the excellent health enjoyed by the championship). In the video I tell you about my race, which finished with a seventh place in the Marathon Class, riding the Fantic 450 Rally. But I also try to convey the emotions and the really nice atmosphere in the paddock.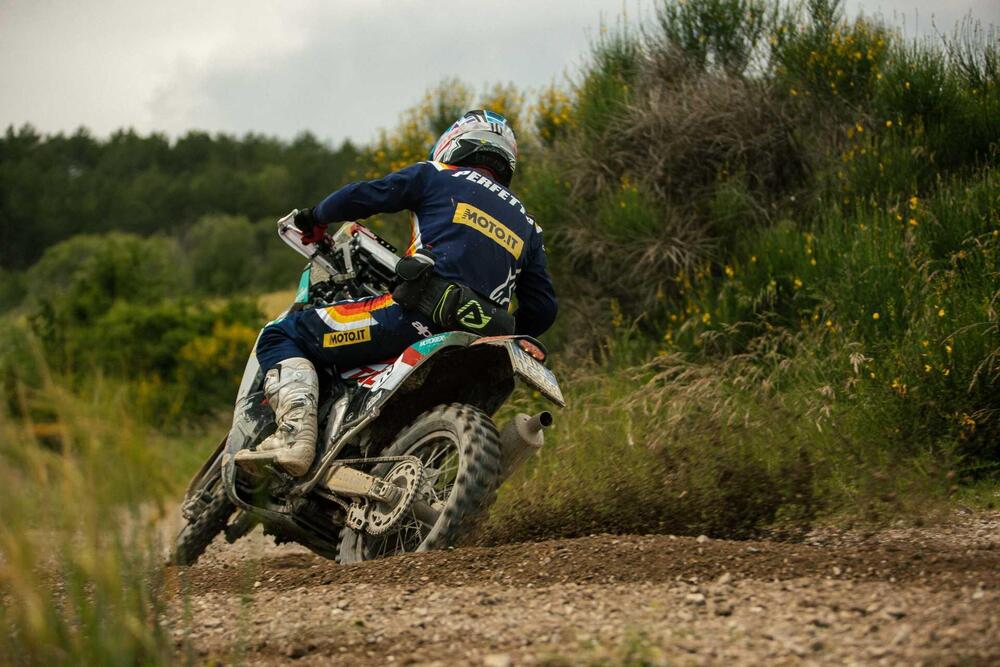 Il Perfetto during the second special on Sunday
The two days of the Championship

First day
Beautiful race that of Umbertide, valid for the fifth round of the Italian Motorally Championship. The first special of almost 30 kilometers of true enduro on technical trails with incredible views. The second special was instead canceled by Moto Club Fratta, a wise decisionbecause a storm came down which made the track dangerous.
Let's see what Sunday has in store for us, with the sixth round.
(Today mention for the legendary Ale Botturi, first among the big names and fourth overall with the Ténéré on a very demanding course).
Second day
But what did you do? Moto Club Fratta, IMF and all the men coordinated by Antonio Assirelli: I bow before you for the making of a wonderful race. Only last night she looked doomed.
Outsize rain, mud dripping everywhere, fords that aren't even in Iceland. Instead these men worked nights to create a course and roadbook for the riders. The two stages have obviously been reduced in distance, but what you have done is great.
Thank you all for a crazy job.
Here I show you a summary of the second special on Sunday, valid for the sixth round of the Italian Motorally Championship. Fast, muddy, wading. Beautiful.
It was my comeback race to the paper roadbook after 14 years of hiatus (in fact see the vintage red ICO placed on the Fantic). Less technological than the Carpe Iter, but certainly more effective in the timed special. I'm happy with the seventh place in the Marathon, but above all I can't wait for the final round of the championship to arrive in Sardinia, because Motorally proves to be a fantastic discipline!
Full throttle and everyone is crazy about Motorally! The race in Umbria with the Fantic Rally 450