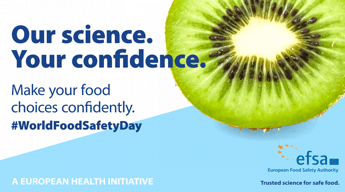 Inform and sensitize Italian citizens to make informed decisions on food choices in everyday life, at every stage of the food chain, and highlight the fundamental role of science and the directives formulated by EFSA experts, thanks to which the food on our tables is checked and safe. These are the objectives of the third edition of the #EUChooseSafeFoodIn communication campaign, launched on the occasion of World Food Safety Day, by EFSA, the European Food Safety Agency with the Ministry of Health, as part of the conference organized by the Ministry of Health.
The campaign, which this year involves as many as 16 EU countries (there were 9 in 2021 and 12 in 2022), provides practical and easily accessible information for consumers and, in Italy, this year focuses on three themes: the health of bees and the close correlation with crops that depend on pollination, foodborne illnesses caused by bacteria originating from raw food, in particular cystic echinococcosis, and contaminants in food products, such as mercury and methylmercury in particular. The campaign, which will last until September, is aimed in particular at citizens aged between 25 and 45, women and young parents, using simple, intuitive and captivating language. Communication Hub is the website available in various languages, from which it is possible to download the #EUChooseSafeFood toolkit which includes images, short videos and content for social media posts. The activities foreseen for the promotion of the campaign include press office, media partnerships, influencer marketing, public relations and participation in events.
"The intent of the campaign is to make citizens understand how important the work of scientific experts is, to make the food on our tables safe and at the same time to help them develop awareness and a critical sense of the choices they make on a daily basis of food", says Alberto Spagnolli, EFSA's Senior Policy Advisor. "European consumers are among the best protected and informed in the world in terms of food risk – he underlines – thanks to the synergistic work between EFSA and the national institutions of reference, first and foremost, as regards Italy, the Ministry of Health , our partner in this campaign".