Anne Igartiburu has become romantic for the tenth gala of 'Your face sounds 10 to me'. She has become Francis Cabrel and has made quite a love song with 'Je l'aime à mourir'. It is a delicious song in French that was so successful that countless versions have been made, also in Spanish with the translation 'I want her to die'.
Facing a new sex change, the contestant has passed this exam with flying colors. The conspicuous mustache in her characterization hasn't stopped her from demonstrating her command of the Gaulish language. Also, the song counted with more difficulty than it seems from that kind of recited chant, almost more like a poetic statement.
Anne also warned how complicated something that may seem easy is: being as languid as Francis Cabrel in this video clip. She has managed to transmit emotions with her eyes and create a magic full of feelings. Relive this performance on video!
This number has calmed down a gala that Agustín Jiménez had revolutionized. The contestant has been brutal with his imitation of AC/DC and, in particular, of Brian Johnson, the band's vocalist. In addition, he has sung a song that is a hymn for his followers: 'Thunderstruck'.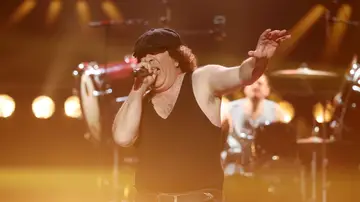 Without a doubt, this is his most bestial imitation so far in the tenth season. Maybe also the best?