Look for some practical suggestions to start your personal epic with Diablo IV? In this short but exhaustive compendium we have grouped everyone the most important tips to immerse yourself in the most diabolical RPG there is, especially if you are new to the long-lived franchise. That said, it's been more than a decade since the release of Diablo III therefore, if you have abandoned the ARPG par excellence for some time and are looking for a little refresher before embarking on this unprecedented adventure on Sanctuary, the next few paragraphs might contain something useful for you too. Considering the excellent positive impressions made during our playthroughs, it would not be surprising if this return also marks one of the highest and most celebrated playful milestones of 2023, so you would do well to use every single opportunity to overwhelm Lilith and her henchmen when they pounce ravenously on your group of adventurers.
Diablo IV: it's always a matter of class
As you should know by now, the game offers five classes to choose from: Barbarian, Druid, Enchanter, Necromancer and Cutthroatso it's likely that you'll want to pick one that fits your playstyle the best. Do you like keeping a safe distance and fighting from afar? Then perhaps the Cutthroat or the Enchanter are right up your alley. Do you want to charge anything that moves head on and face any opponent up close? Experience the devastating blows of the Barbarian. There are 10 slots available for each account, so if you're not sure which character to play, you can test them all for a few missions and then make a final decision, at least for the current game. You could even play everyone all the way through twice if that's your thingbut be careful not to exceed the limit imposed by the developers because, if you try to add an eleventh champion, you will find yourself facing one of the worst enemies of the title: a dreaded error code316005 in this specific case, which will warn you to remove one of your avatars before you can add another brand new one.
Unlock slots to maximize available skills
Once you have identified the protagonist and begun the journey to Kyovashad, you may notice that not all quick access slots for skills are immediately usable. After spending the first skill points, with one point earned each time you level up, the two slots on the right will open, allowing you to equip as many powers, while the remaining four will remain inaccessible until you reach the eighth level, therefore you would be better off taking on some side missions to accumulate enough experience. At that point they will automatically unlock, and you can finally assign all six skills that make up your best build for to sow death from the destruction of his scourge of the sanctuary.
Spend your points carefully to avoid wasting them
Taking into account the previous point, make sure you use your skill points carefully in the early stages of the game. As we'll explain later, it's possible to respec, but you still don't have to waste points to unlock skills you can't or don't want to use. During the first seven levels, consider the possibility of invest skill points to level up two chosen techniques, rather than getting carried away by activating as many as you can allocate. You can then re-allocate some of these points once you reach level 8. If you are using one of our recommended builds, you can always stick to the way we distributed the points, as one of the principles that have guided us is versatility.
Free respec up to level 15
If you buy skills that you don't want or don't like and want to change your mind, you can always respec. We strongly advise you to use the very first levels to play with the respec mechanics of Diablo IV, as its use is free up to level 15 and quite cheap afterwards, in order to understand exactly how it works in case you want to use it more than once. There are two ways to respec: one is to start completely from scratchthus clearing all skill tree assignments, while the other is to reassign individual powers, with the only caveat represented by the obvious impossibility of removing a basic skill if we have purchased its respective upgrades. Unless you are absolutely sure you want to select all skills one by one, we recommend the second solution, practicable by right-clicking or holding down the X/Square key on the ability you want to refund. If you really want to start over, the best advice is to start a new character: even if you have to complete the same missions again, you will have the possibility to switch from one build to another as you determine which skills you deem most appropriate.
Diablo IV: Play with friends to intensify the experience
Although it is possible to play a Diablo IV alone, there's no denying that the ideal way to achieve the best goals is to face it with friends: it's not only a matter of fun but also of necessity, as we will be forced to request the help of other flesh and blood companions, live or online, to take down some of the most difficult world bosses and overcome many other challenges that await us during the adventure. The fourth chapter of the saga brings with it the very welcome cross-play, providing us with the opportunity to meet online explorers who use different platforms, the only alternative that can be used by PC users since on the latter there is no option to play in co-op on the same screen. Furthermore, beyond the pleasure of exploring Sanctuary with your friends, each party member gains an additional experience bonus by 5% when completing missions and taking down nearby enemies.
Use points of interest and other key areas on the map
The map of Diablo IV is essential to navigate among the cloud of places that populate this new incarnation of Sanctuary and is fortunately one of the simplest to read and use in its category. Although it lacks the ability to display a semi-transparent layer with the entire topography that updates in real time, the mini-map is super easy to keep an eye on as you head towards your next destination, but you can improve it even more by setting a point of interest: open the main map by pressing the appropriate button and select the destination you wish to reach, leaving the task of outlining the shortest path to the internal algorithmeven if the latter is in an area of ​​the map that you haven't explored yet… but be careful not to end up in an area where the monsters are much stronger than your character! On the map you can also see some colored areas, highlighted in blue, yellow or orange. These visual codings have different meanings and it's helpful to know what's going on if you find yourself crossing them: a space highlighted in blue indicates that there is an object or an NPC linked to a secondary mission inside it, so it is not necessary to search outside its borders; yellow areas have the same meaning for main missions, while orange areas indicate that a world event is taking place, an online public meeting that you can join with other players.
Learn the meaning of status ailments
Most of the skills, items and aspects to be instilled in the latter has some kind of altered state, positive or negativeand the latter can affect both players and enemies. Knowing the meaning and effect of each of them is essential to know how to use them to your advantage.
Barrier: Some items or abilities can provide a Barrier, such as the Caster's Armor of Ice. Barriers provide protection by absorbing a percentage of damage takenand when active are visible as a light purple halo on the character's Health Orb.Berserker: Causes affected subjects deal more damage and move fastera very beneficial consequence indeed. Freeze: Applies to a character after they have been repeatedly frozen and, like Stun, prevents the affected person from attacking or using abilities for a short period. Unlike Stunned, however, Frozen enemies or players cannot move.Crackling Energy: Another orb that is dropped, but this time it has negative effect on whoever picks it up, periodically damaging them. The spell Caster's Flickering Spark has a chance to drop Crackling Energy when cast. Wounded: This is the opposite of Healthy and applies to characters with less than 35% of their maximum Health. Fortification: occurs when you have more Fortification than Life and causes the character, or anyone who is Fortified, to take 10% less damage.Stealth: Prevents affected characters from be targeted by attacksbut the condition is removed when you use an ability or take damage from an indirect attack. Chilled: Cold-related abilities, such as the Caster's Chill Shot, can inflict the Chilled effect on enemies, which reduces their movement speed. Repeatedly Cooling an enemy results in a Freeze effect.Immunity: prevents the affected character from taking damage for the duration and removes all existing negative effects.Unstoppable: removes all effects that impair control and can be obtained from skins, such as the Barbarian's Iron Warrior Skin.Healthy: This is the status that indicates players or enemies with 80% or more of their maximum Health.Blood Orb: Can be dropped when using certain skills, such as Necromancer's Bleeding, and can be picked up to get a 15% increase in maximum life whoever receives it.Overwhelm: Takes the character's Life and Fortification total e deals damage equal to the sum of these values.Stun: Allows the affected party to move, but without being able to attack or use skills.Vulnerable: Increases the amount of damage taken by 20%. from the afflicted.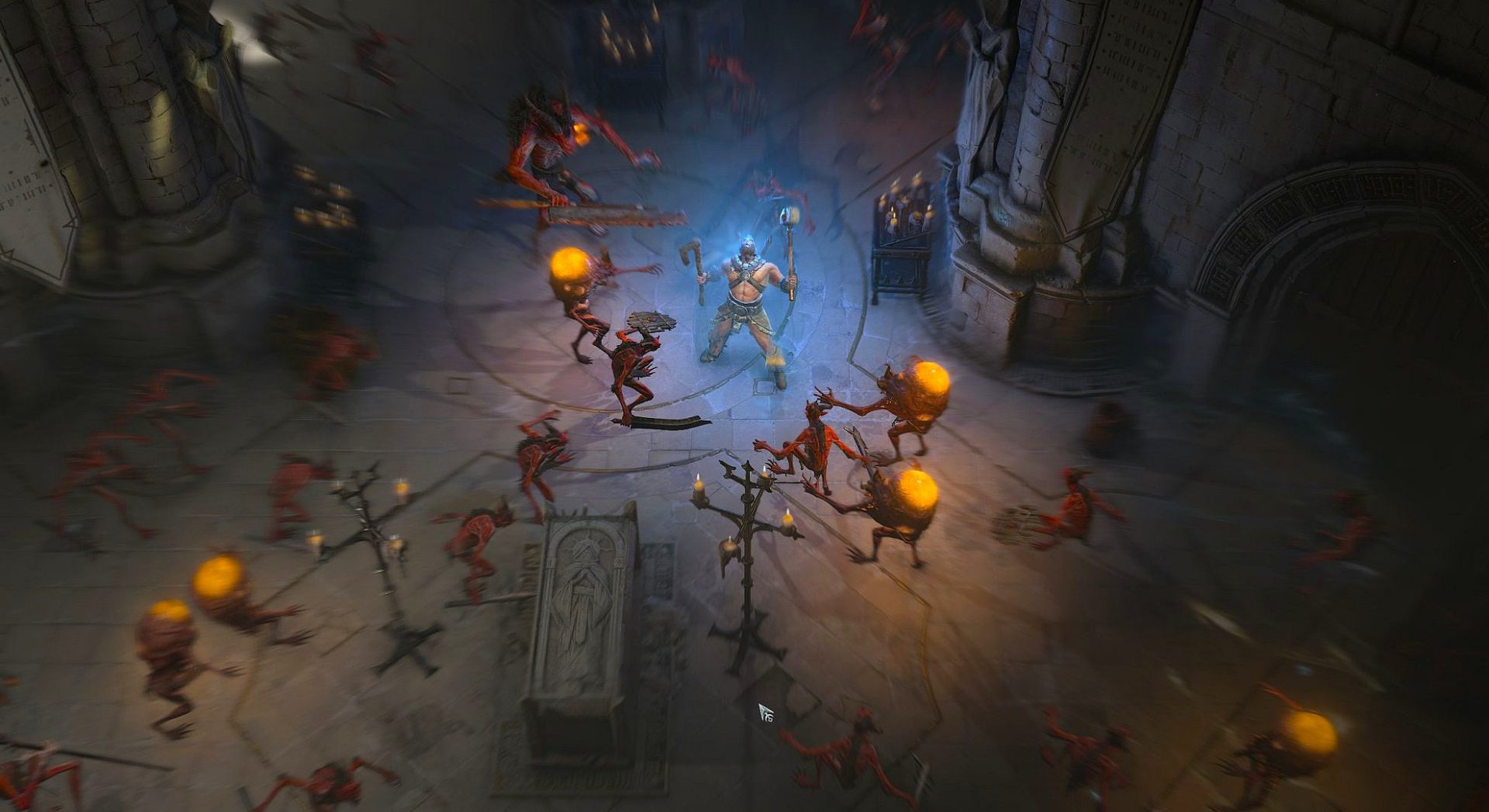 And that's it for our first guide to the basics of Diablo IV: of course, the game world is much larger than the topics covered by the article, but the advice given is the one we felt it was essential to know before embarking on a new adventure between the regions of Sanctuary. the other handbooks that you can find a little further down contain suggestions on how to best configure your characters for the first handful of hours, so as to have an excellent starting point for building the most effective builds for each class, and expect more reports exhaustive post-launch when we will have the opportunity to dissect the endgame and seasonal contents properly.
---
Our review of Diablo IV: Who
The other guides: