Could it be the best number by Agustín Jiménez from 'Tu cara me suena'? Without a doubt, this is his most bestial imitation so far in the tenth season. The contestant has been brutal with his imitation of AC/DC and, in particular, of Brian Johnson, the band's vocalist. In addition, he has sung a song that is a hymn for his followers: 'Thunderstruck'.
This is how Agustín has left the jury and the public: stunned. His voice was super accomplished, overcoming a very complicated challenge. Also all his energy and the way he moves, bringing out the 'metalhead' he carries inside to the general surprise.
Special mention for the staging. Agustín has had the music of an AC/DC tribute band and the production team has made a spectacular video edition. As for the audience on the set, he has jumped and vibrated like at a band concert. Press play and enjoy this great number!
In contrast, Merche has transported everyone to the 50s. The contestant, who is gorgeous, has imitated Monna Bell and sang 'Un telegrama'.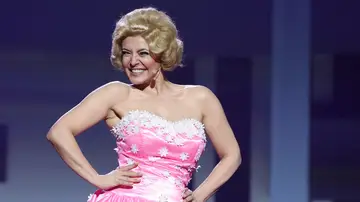 The number has recreated that era full of elegance. Without a doubt, it was the sweetest performance of the night.