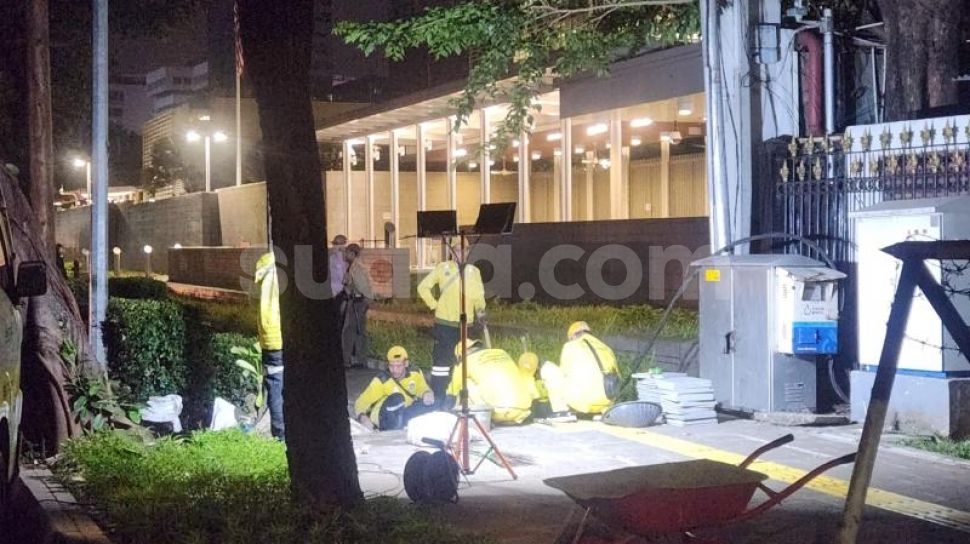 Suara.com – The DKI Jakarta Provincial Government (Pemprov) demolished the sidewalk blockade in front of the United States (US) Embassy building on Saturday (10/6/2023) in the morning. This demolition was carried out after various parties voiced their opposition to the closure of this pedestrian route.
monitoring Suara.com, the blockade made of iron barriers and barbed wire has been lifted. After that, it was seen that around four to five DKI Bina Marga Service officers were carrying out repairs to the sidewalks.
Officers repaired the sidewalks that were damaged during the blockade. At the location it was also seen that there was a truck unit along with heavy equipment used to lift the barrier.
Previously, Acting Governor of DKI Jakarta Heru Budi Hartono spoke about plans to reopen the sidewalk blockade in front of the United States (US) Embassy. He admitted that he would order his staff to open the pedestrian route cover.
Read also: After the brawl on Jalan Tamansiswa, the DIY Regional Police and a number of community elements held community service
However, Heru said that his party could not immediately open the blockade. Until now, there are still administrative matters that need to be resolved.
"I need administration between the Ministry of Foreign Affairs and the Embassy, ​​I need administration that has been discussed and discussed," said Heru at the DKI Jakarta City Hall, Thursday (8/6/2023).
Heru said that currently the opening of the blockade was still awaiting discussions between the Ministry of Foreign Affairs and the US Embassy.
"I have spoken with the Director General of Amerop and the Ministry of Foreign Affairs is communicating well to the US Embassy," he said.
Furthermore, Heru could not confirm when the blockade would be lifted. However, he said the sidewalks would be opened immediately after the discussions were completed this week.
Also Read: Pekanbaru PUPR Service Sacrificed by Gegara Residents Spending Personal Funds to Repair Muslim Roads
"Hopefully soon. Yes, maybe this week," he concluded.