Andrea Guasch has faced one of her greatest personal challenges in 'Tu cara me suena'. She has not required great dancing skills like Chanel nor a sex change like Jerry Lee Lewis. However, it is the first time in her life that she has sung a copla, and she has done it with all the love in the world to pay a precious tribute to Carmen Sevilla.
The contestant has put on a comb and a flower in her hair to go on stage and proclaim herself 'Carmen of Spain'. Without a doubt, she has achieved that point of mischief with tenderness and spark that the artist had in her youth. She has also been able to transmit that permanent sweetness in her smile and in her eyes.
Although Lolita has been quite critical about the voice afterwards, the truth is that Andrea has been conquering with this wonderful paso doble. Once again, she has noticed her work and her talent to make a number full of nostalgia. Don't miss it in the video!
It has been a night of tributes and also of great visits. One of the best gifts of this gala has been to once again enjoy the talent and humor of Silvia Abril.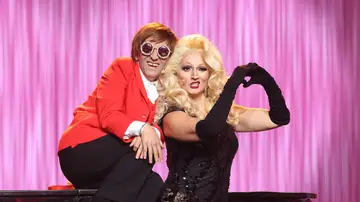 This time he has returned to act with Susi Caramelo: they have become an exuberant RuPaul and a restless Elton John. His 'Don't go breaking my heart' enters directly into the classification of craziest numbers in the history of 'Your face sounds familiar'.