Miriam Rodríguez has made good the saying that 'there are no two without three'. She is already a three-time champion in this tenth season of 'Tu cara me suena' thanks to India Martínez's brilliant imitation of her. She has taken out the complaint from 'La gypsy' to leave everyone spellbound with her duende.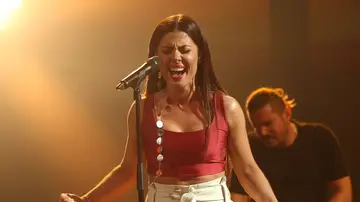 The contestant has assured that she is feeling 'Your face sounds familiar' as "the beginning of a journey, an adventure". In addition, she has taken the opportunity to make an unusual request: "Be in the next edition." Manel Fuentes has reminded her that until now only Santiago Segura has achieved it, who doesn't sing as well as her.
In addition, Miriam was moved to dedicate her award to the Elena Huelva scholarship to find a cure for Ewing's sarcoma, a type of cancer that affects children and young people. The scholarship owes its name to a girl who was a victim of this disease. The contestant recalled "she only asked for more research and to fight with it." "This is for her," she has assured.