Next week seems to be moving for Alihan in 'Original Sin'. After having discovered the truth about her mother's past and having made peace with Halit, the young man tried to win Zeynep back. But there has been no way… Ender has not signed a divorce from her! The ambitious woman does not want to part with the billionaire businessman. And, Alihan, once again, has broken Zeynep's heart.
exhibited photographs
Next week we will see how the youngster will continue trying to fix his mistakes, but nothing will be as easy as he thinks. The other way around. The photographs that Ender took of him the night of his drunkenness are about to see the light and will leave his credibility badly affected. It seems that they have slept! Will he be able to deny it?
For her part, Yildiz will find herself immersed in a new blackmailing of Ender, but she doesn't know that they will also be after her… Who will it be? The young woman will continue with her private sports classes, and her flirting with her teacher will only get worse. Will she get herself into some new trouble?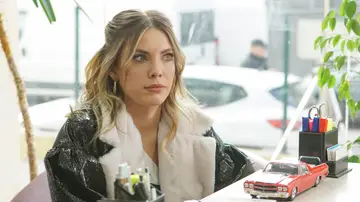 Yildiz in chapter '34' of 'Original Sin'. | antenna 3
Also, we will see the consequences of bad behavior if you are the son of Halit Argun. The businessman is determined to send his son to study abroad, specifically to London. Ender will do everything possible so that his son does not leave, and Erim himself will refuse to go. What will happen? Will Halit get what he wants and send his child away from him as punishment?
Halit in chapter '34' of 'Original Sin'. | antenna 3
If you want to know everything that will happen next week in 'Original Sin', stay up to date and from Monday to Friday at 5:30 p.m. enjoy new episodes on Antena 3.