Cecilia, Sara and Aleix have made a very lively Battle with the song 'I don't want to miss a thing' by Aerosmith.
The three of them have been great companions and it shows that they get along very well both on and off stage.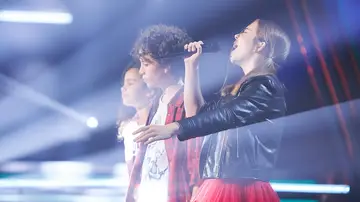 It is true that the three of them were a little nervous, and that is something that has been noticed, but the song has turned out very well for them despite everything.
Rosario has had to make a decision, and has opted for Sara's great potential. Aleix and Cecilia will remain as an option to be robbed.
But first, Aleix has asked Rosario to sing with her 'I love you, I love you', by Nino Bravo. A genre in which we are not at all used to seeing talents, but which, as we have verified, also defends itself very well.
What a beautiful moment Rosario and Aleix have just starred! Check it out in the video above.