How to create a magical atmosphere while adding a comic touch? The answer lies with Agustín Jiménez and Raúl Pérez, who have managed to move and make people laugh at the same time with 'Two men and a destiny' in the version that David Bustamante did with Sergio Dalma twelve years after his duet with Álex Casademunt.
Agustín has been Dalma… or, at least, he has tried. Perhaps the tight vest may have influenced his voice being a mix between Eros Ramazzotti and Joaquín Sabina, as he later joked
Manel Fuentes with good sense. For his part, Raúl has been more convincing as Bustamante, singing even better than in the edition in which he participated.
In any case, they have shown a lot of chemistry together and have been accompanied by the entire audience singing a song that is already a hymn. In addition, it has brought many memories, especially to Merche and Chenoa, who could not help but be moved to tears. Relive this performance on video!
From two animals of laughter to an animal of music. Alfred García has imitated The Animals, specifically the scratchy voice of Eric Burdon.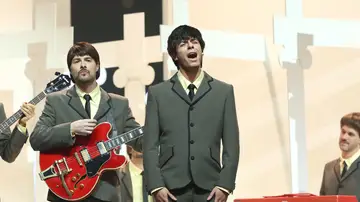 The contestant, with a 60s aesthetic, has surprised with the song 'House of the rising sun'. It will have sounded familiar to many because it is back in fashion thanks to TikTok.