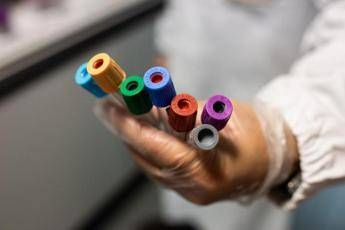 Created two nanoparticles capable of transporting Rna and Dna-based therapies inside the cell in a selective and targeted way, to counteract the progression of very aggressive tumors. It is the result of the work of a group of researchers from the University of Trieste, in collaboration with other international institutes including China Pharmaceutical University and Aix Marseille University, who designed, synthesized and tested the two nanoparticles and published the study on the prestigious Proceedings of the National Academy of Sciences (Pnas).
Modern therapies, the researchers explain, based on the transport and release of nucleic acids, are an important field of research for combating very serious diseases, such as aggressive and metastatic tumors and rare genetic diseases. But in order for these therapeutic molecules to reach the cell, they must be 'masked' because otherwise they would be recognized as external agents and attacked by our immune system. The researchers of the University of Trieste have therefore looked for a way to 'deceive' the cell by creating two different types of vectors that use self-assembling nanomaterials: 'bricks' which, when brought close together, manage to organize themselves autonomously around these nucleic acids, hide them and transport them inside the cells selectively, like a sort of Trojan horse.
Furthermore, the researchers created the two nanoparticles with different characteristics, one specific for RNA-based therapies, the other for those based on DNA. This is a very important result because these molecules have different mechanisms and characteristics and it is necessary, in order for them to perform their therapeutic function effectively, that the vector be constructed on the basis of the way each of them penetrates the cell.
The next steps in the development of this line of research are manifold and will mainly concern bringing the production of nanoparticles to an industrial dimension, which requires a complex series of requirements necessary for the production of materials for pharmaceutical use and their subsequent possibility of being brought to the clinical verification phase. "With respect to this last point, the efficacy and non-toxicity of nanoparticles has already been demonstrated in this study", adds Sabrina Pricl, professor of chemical engineering and scientific director of the Molecular Biology and Nanotechnology Laboratory team.
"Although, when it comes to new molecules for pharmaceutical use, it is always very difficult to make predictions and false illusions must not be created, these nanoparticles are promising for rapid entry into clinical practice", explains Pricl.
"There are two conditions favoring this prospect: on the one hand, a nanoparticle system has recently been quickly approved as an orphan drug for a rare genetic disease, Fabry disease; on the other hand, an official call to raise awareness towards greater regulation and an improvement of the approval process of nanotechnological systems in the therapeutic field was delivered to the European Commission by the cost action 'Cancer nanomedicine: from the bench to the bedside', of which I am chair, jointly with other bodies which include, among others, patient associations and drug surveillance bodies".