Suara.com – Hemophilia or blood clotting disorder is a rare disease that needs attention. Official data for 2021 there are 27,636 cases in Indonesia. Unfortunately, the difficulty of access to health care makes patients often arrive late and are at risk of disability and even death.
Consultant pediatrician for hematology oncology, Dr. dr. Novie Amelia Chozie, Sp. A (K), said, at Dr. Cipto Mangunkusumo Hospital (RSCM), every month there are 2 to 3 new cases of hemophilia and 50 percent of them arrive late.
"It's been complicated. Muscle bleeding which eventually clamps nerves or repeated joint bleeding resulting in joint damage or hemophilic arthropathy," said Dr. Novie to reporters, recently written Friday (2/6/2023).
The handling of hemophilia cases still faces various challenges, especially in developing countries like Indonesia. Hemophilia still rarely gets attention. This is evident from 27,636 cases in 2021, only 2,425 patients were diagnosed with hemofolia A and received treatment.
Also Read: FACT CHECK: Legendary Diva Celine Dion Uses a Wheelchair Due to a Rare Disease?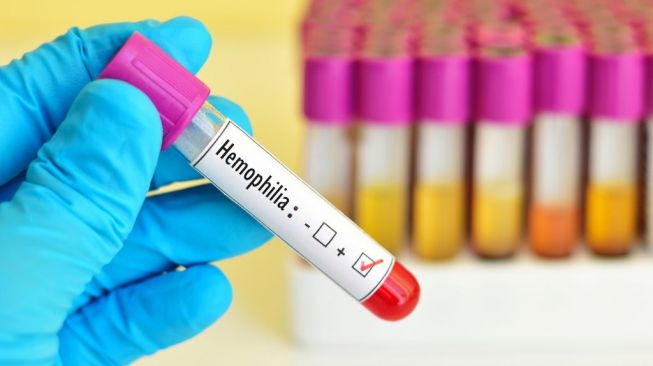 Hemophilia illustration. (Shutterstock)
This disease is also expensive. From BPJS Health data in 2020, hemophilia is the sixth largest disease in the National Health Insurance (JKN) claims.
Symptoms of hemophilia usually appear in boys who have carrier mothers. The cause of hemophilia is a deficiency of blood clotting factors in the blood plasma. There are three degrees of severity of hemophilia, namely mild (blood clotting factor level of 5-40 percent), moderate (blood clotting factor level of 1-5 percent), and severe (blood clotting factor level of 1 percent). In severe conditions, bleeding in the muscles can occur even if there is no reason.
According to Dr. Novie, so far what has been done is screening through a family history of frequent bleeding. You can also observe the condition of children who are easily injured.
"If around us there are babies or toddler boys, bruises easily, and large joints (knee and elbow) are swollen, consult a doctor immediately," he said.
So far, many patients with severe hemophilia come to the doctor with swollen joints.
dr. Novie warns that if a child is diagnosed early, parents are expected to provide a safe space for the child's movement. Because in hemophilia patients, even a minor impact or trauma can cause bleeding in the muscles.
Also Read: Ruben Onsu Returns to Hospital, Appearance of Cables and Blood Bags Makes Sad
"In case finding or diagnosis and treatment of hemophilia in Indonesia, there are several problems," said the pediatric oncology and hematology consultant.
At the diagnosis stage, he continued, there were not many referral hospitals in the province that could carry out clotting factor checks. This is because there are not many sub-specialist doctors for pediatric and adult hematology in Indonesia.
Then during treatment, because the drugs used are special, the administration must be consulted from a pediatrician or internal medicine specialist to a hematology sub-specialist.
According to Dr. Novie, overseas, especially in developed countries, cases of hemophilia are rare which cause complications and mortality. Because the health infrastructure has been supportive for the treatment of hemophilia from an early age.
dr. Novie emphasizes the importance of education and empowerment of individuals related to hemophilia, their families, and health care providers regarding management of acute bleeding. The goal is to intervene in a timely manner and optimize overall health and well-being.
"Many parties must continue to remind the importance of this," he said.
Meanwhile, Vice President & General Manager, Novo Nordisk Indonesia, Sreerekha Sreenivasan hopes to empower people with hemophilia. So they can live without restrictions.
"The most important thing is that they have the opportunity to fully participate in the activities they love and reach their full potential," he said.
This year, Novo Nordisk celebrates its 100th anniversary. In line with this, we want to continue to be committed to raising awareness and working closely with health care professionals, patient organizations and organizations working in the field of hemophilia.
One form, said Sreerekha, is by providing articles about hemophilia that occur in children which are available on the PrimaKu application which is supported by Novo Nordisk. It is also developing initiatives such as Changing Haemophilia to address the unmet needs of people with hemophilia and other rare blood disorders.
"Together, we will drive change to live without boundaries," he concluded.