Merche continues to make merits to reach the top of the general classification with a number that has meant a journey through time. The contestant has imitated Monna Bell and has transported everyone to the 50s, to a time as elegant as her dress and as charming as her song: 'A Telegram'.
The staging has had beauty and exquisiteness. Viewers have been able to see the performance in black and white at times, like the movie that contains this song. However, it has really been a number full of color, like the romanticism of the lyrics.
The contestant has faced a more complicated challenge than it may seem at first glance. She has had to study and work a lot with her voice to be like Monna Bell, both in the bass and in the twists. The result has been one of the sweetest performances of the night. Relive it in the video!
It has also been pure gold to receive a visit from a former contestant as beloved as Rasel. He has returned to help Josie: they have become Dani Martín and Amaia Montero to sing 'Puede ser'.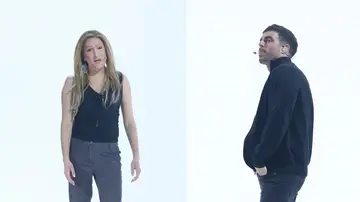 It has been a duet in which they have shown a lot of complicity. When the two of them have sung together, their voices have blended perfectly into a song that is a hymn for the fans of these artists.