On Monday 5 June, an explosion caused the destruction of a large dam in southern Ukraine: the dam is located on the Dnipro River, near the city of Nova Kakhovka, in the Kherson region, in an area controlled by Russian forces. Various videos and satellite images circulating on social networks showing the moment of the explosion, but it is not known precisely what caused it: Ukraine has accused Russia, which occupies a large part of the territories south of the dam, while the Russia in turn said that Ukraine itself would have caused the explosion.
The main fear right now is that the water that was previously held back by the dam will cause flooding in many parts of the region: local authorities in 10 cities, including the capital of the Ukrainian-controlled Kherson region, have been told to prepare to evacuate the residents. In some cities, evacuations have already begun. According to the local military authorities, the water should reach its maximum level around 12 local time (11 in Italy).
The Nova Kakhovka dam is a very important piece of infrastructure for the region, feeding a large hydroelectric plant which in turn supplies the Russian-occupied Crimean peninsula. For months, Ukraine and Russia had been accusing each other of wanting to destroy the dam, which lies along the front line and is essential for energy supplies for both Ukrainian soldiers north of the Dnipro River and Russian soldiers a south.
Russian terrorists. The destruction of the Kakhovka hydroelectric power plant dam only confirms for the whole world that they must be expelled from every corner of Ukrainian land. Not a single meter should be left to them, because they use every meter for terror. It's only… pic.twitter.com/ErBog1gRhH

— Volodymyr Zelensky (@ZelenskyyUa) June 6, 2023
In October, Ukrainian President Volodymyr Zelensky warned that if the Russians damaged the dam, there would be rapid flooding in many parts of the region and that "hundreds of thousands of people" could be affected.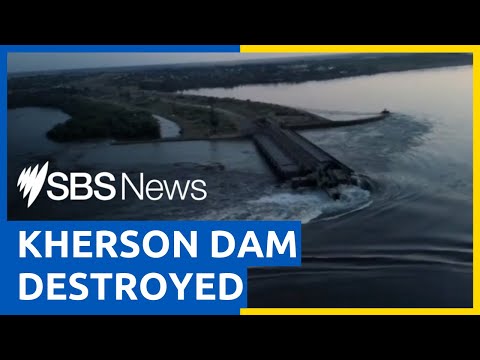 Recent footage of the Nova Kakhovka dam.
pic.twitter.com/91XcsBP1D8

— The Spectator Index (@spectatorindex) June 6, 2023