Miguel Ángel Muñoz and Mónica Cruz have presented 'UPA Next' in 'Pasapalabra', the series that is triumphing in ATRESplayer PREMIUM in which the protagonists come together again at the dance academy twenty years later.
Roberto Leal asked the actor how his second program was, a moment in which Miguel Ángel Muñoz took the opportunity to boast of his victory on the track against Mónica Cruz, "1-0 Mónica, I'll leave it there", assured the actor who plays Rober.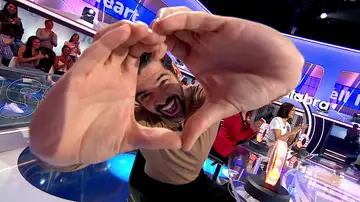 Mónica Cruz did not hesitate to respond to Miguel Ángel Silvestre in the face of his pique, "You keep going up and you will see, then the fall is bigger" the actress told her partner in 'UPA NEXT'.
Will Mónica Cruz's prognosis come true on La Pista or will Miguel Ángel Muñoz win another victory?
After this, in this same program, we experienced a moment of heart attack with Adrián and Encarni giving their all in 'El Rosco'. Do not miss it!