Concept cars are usually models that stand still and are so fragile that they can already fall apart with something like a slightly too clear wink in their direction. They are revealed, tour a few posh parties and usually end sadly, rotting in a dumpster somewhere at the back of the factory. So what's the use of such a nice-weather whiner in a world of delivery problems and discounts on every possible budget?
Citroën's most recent contribution to 'Wouldn't it be nice if' looks like a moon buggy that has fallen out of orbit, but the idea behind it is considerably more solid with two feet – forward, with four wheels – on the ground. He puts an end to the most thorny point of electric cars and the way they are made.
Read also: Here are all the winners of the TopGear EV Awards 2023
Oli's solutions to EV problems
The windscreen is straight because it requires less glass than for a curved one. And what if we were wrong with those large, lithium-consuming battery packs? That of the Oli is only 40 kWh. But that's good enough for a range of 400 kilometers; double the endurance of a Honda e, while it only has 14 percent more capacity.
And that's because it weighs half a ton less – it only weighs 1,000 kilograms, thanks to less insulation (electric cars are already silent) and a roof, hood and rear made of a kind of polyurethane cardboard. So it is waterproof, as strong as steel, but weighs half. And it is completely recyclable.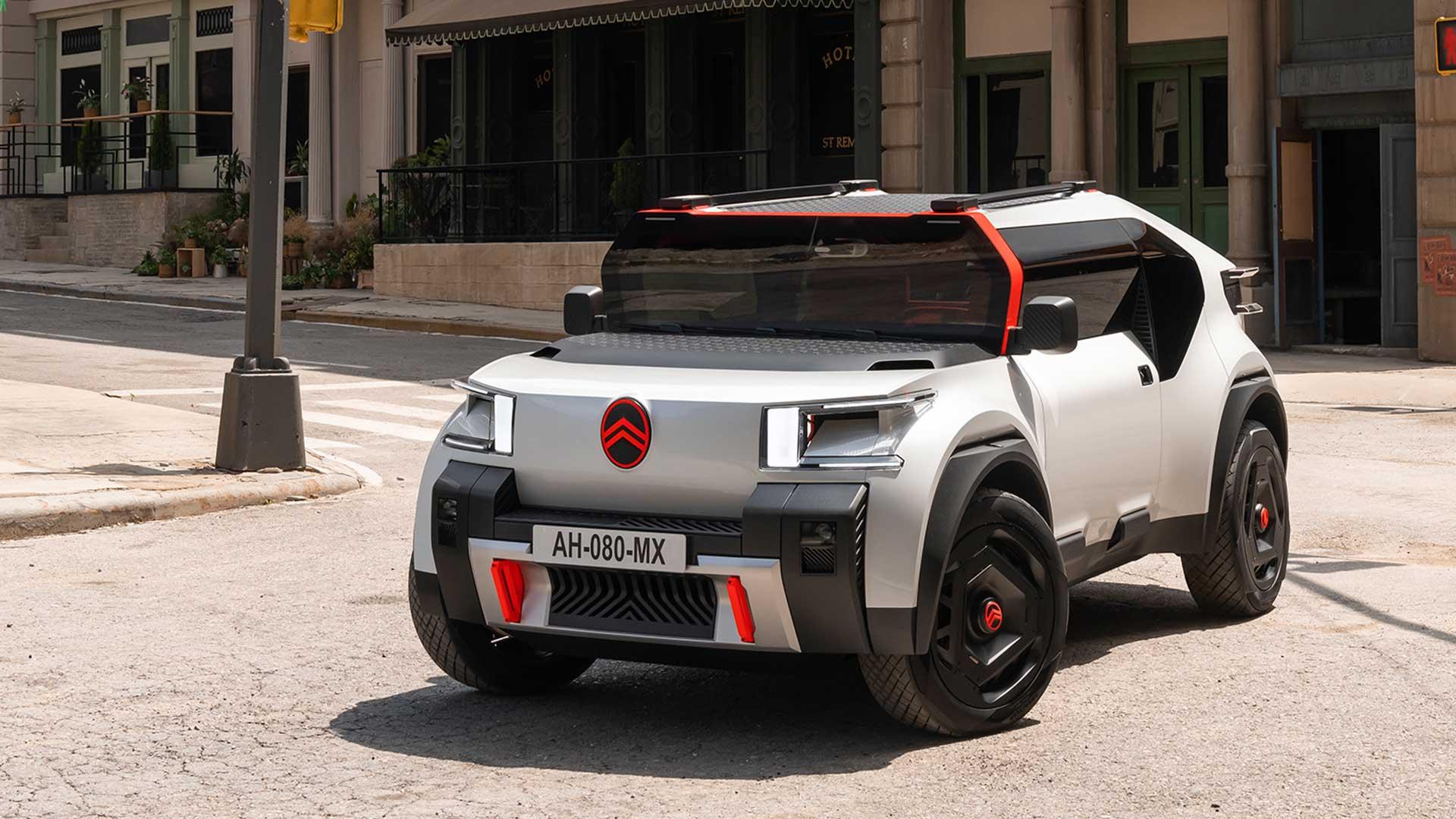 Goodyear has designed tires that should last half a million miles, which equates to the entire life of the car. Inside, you plug your phone directly into the dashboard, after which its processor is used for the entire infotainment. That in turn saves on expensive semiconductors. The Oli seems almost designed to show that cars are full of unnecessary technology.
Verdict on the Citroën Oli
A city car does not have to be immediately suitable for highways, with all the weight, costs and emissions that this entails. What if we started building cars in a more intelligent way, for specific purposes? Citroën believes the Oli proves they can still be strong, safe and roomy: "Instead of being a 2,500 kilo palace on wheels, filled with screens and gadgets, the Oli shows that more can be achieved with less .'
It must be said: Citroën has often shown that it can come out radically to weaken the innovation afterwards. Remember the C4 Cactus? At the very least, the interior, with fewer screens and pleasant materials, bodes well for the future. But if some of the ideas that went into the construction of the Oli could become the norm, the EV revolution has a chance to be sustainable and affordable for everyone.