Victoria Federica returned to the Las Ventas bullring yesterday, this time to support one of her great friends, Roca Rey.
The young woman arrived at the place with an orange jumpsuit that was luxurious on her and, despite being an influencer and devoting her life to social networks and her image, the press was not expected at all to be waiting for her at the entrance.
However, once she managed to enter the square and take her place, the young woman relaxed and was able to enjoy the bullfight of her great friend, and of whom it has been said that it could be something more, although she did not have much luck this afternoon. of the festivities of San Isidro.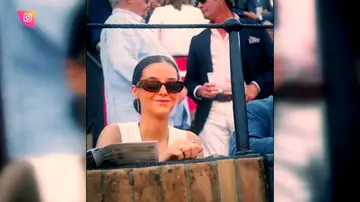 While watching the show, the young woman did not stop playing with a pendant that she did not take off, in addition to having a curious ritual when her friend jumped into the ring: she crossed herself three times in a hidden way, a sign of her concern for the right-hander.
We were also able to see his mobile wallpaper, in which he carries his grandfather, King Emeritus Juan Carlos I, with the same photo that he uploaded to congratulate him on his birthday. Undoubtedly, a very familiar young woman.