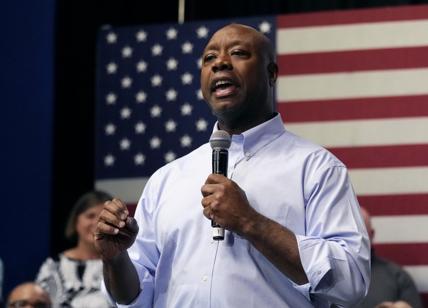 Usa, Republican Senator Tim Scott enters the race for the White House (photo Lapresse)
Usa 2024, the presidential elections are heating up: Tim Scott "Obama of the Republicans" dangerous outsider vs Trump and DeSantis
The presidential campaign is starting to animate. Next Wednesday Donald Trump's fiercest competitor, the combative Governor of Florida Ron DeSantis, will formalize his descent into the field. After him, another Republican took the field, an outsider but with weight. It's Tim Scott, the only black senator among the Republicans, a sort of right-wing Obama. Scott, while not making the official announcement, has already registered with the Federal Election Commission and on Monday in his city, North Charleston, he will launch his candidacy. Tim Scott, the grandson of a Deep South cotton worker, is 57, he is conservative, deeply religious and often speaks of his humble roots. In fact he was raised by a single mother, a nurse to support himself and his brother, after the divorce from his father. In his rallies he often quotes the Bible and has said he is in favor of a federal law that prohibits abortions after the first 15 weeks of pregnancy. Graduated in Political Sciences.

Usa, Scott is the only black senator of the Republicans
For the new competitor in the Republican primaries "America is not a racist country. You shouldn't fight discrimination with different types of discrimination. And it is a mistake to try to use our painful past to dishonestly close debates in the present." Scott was the first black candidate to win a statewide election in South Carolina since Reconstruction. In 2022, she swept reelection with 62.9% of the vote, compared to Democrat Krystle Matthews' 37%. Scott joins a large list of potential contenders against Trump: former South Carolina governor Nikki Haley; Arkansas Governor Asa Hutchison; billionaire biotech entrepreneur Vivek Ramaswamy; businessman Perry Johnson; political commentator Larry Elder; politician Rolland Roberts, son of the West Virginia senator. And Mike Pence is also ready to compete. At the moment the gap between Trump and the others is still very high. De Santis seems to be the most dangerous contender but the primaries can always reserve surprises, even for a conservative outsider like Tim Scott.
Subscribe to the newsletter