Suara.com – The Directorate of General Crimes (Ditipidum) Bareskrim Polri arrested Anita Setia Dewi and Andri Satria Nugraha, two suspects in the Trafficking in Persons (TPPO) case of Indonesian citizens (WNI) in Myanmar. The two were arrested at Sayana Apartment, Tarumajaya, Bekasi Regency, West Java on Tuesday (9/5/2023) evening.
"The suspects Andri Satria Nugraha and Anita Setia Dewi have been successfully arrested," said Dirtipidum Bareskrim Polri Brigadier General Djuhandhani Rahardjo Puro to reporters, Wednesday (10/5/2023).
Currently, said Djuhandhani, the two suspects are being examined by investigators intensively. In addition, investigators are also gathering additional evidence.
"The suspect is being developed to look for evidence at the suspect's residence," he said.
Also Read: Against Indonesia in the Final Game, the Cambodia National Team is in a difficult position!
Anita and Andri were named suspects based on the results of the case held by investigators on Tuesday (9/5/2023) afternoon. The decision to elevate the case to the investigation stage after investigators found a criminal element.
"Anita Setia Dewi and Andri Satria Nugraha were named suspects on the grounds that the alleged elements had been fulfilled in Article 4 of Law Number 21 of 2007 concerning the Crime of Trafficking in Persons and or Article 81 of Law Number 18 of 2017 concerning Protection of Indonesian Migrant Workers (PMI) ," Djuhandhani told reporters, Tuesday (9/5/2023) yesterday.
Successfully Released
As many as 20 Indonesian citizens victims of TIP in the Myawaddy conflict area, Myanmar have been successfully released. Efforts to free him were made through the Indonesian Embassy (KBRI) Yangon in Myanmar and the Indonesian Embassy in Bangkok in Thailand.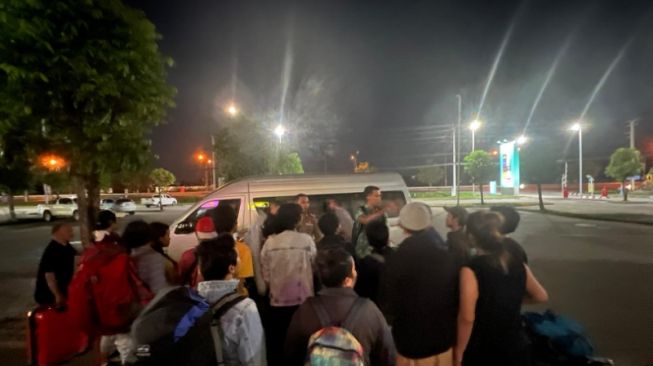 Indonesian citizens (WNI) who are victims of the criminal act of trafficking in persons (TPPO) in Myanmar are preparing to board their vehicles on Sunday (7/5/2023). (ANTARA/HO-Ministry of Foreign Affairs)
Meanwhile, in carrying out the implementation, the Indonesian Embassy in Yangon is working with local networks that have access to the Myawaddy area — where the Indonesian citizens were held, until finally they were released and brought to the Thai border.
Also Read: One thing that could dislodge the U-22 Indonesian National Team from the top position in the 2023 SEA Games Group A standings, what is that?
The 20 Indonesian citizens were brought to the border in two batches, namely on 5 May 2023 as many as four people, and on 6 May 2023 as many as 16 people. The Protection Team for Indonesian Citizens at the Indonesian Embassy in Bangkok will then take them to Bangkok to undergo the repatriation process.