The recipe that Karlos Arguiñano makes today is very simple and practical, as it could be three independent recipes, but Karlos presents them as one.
Ingredients for 4 people
4 mullets. 12 fresh white asparagus. 2 leeks 1 spring onion flour and egg (for coating) nutmeg 1 tablespoon of flour Sugar. Salt Pepper 250 ml. of milk Oil Parsley
Elaboration:
Fillet the red mullets and peel the asparagus, cutting off the ends that we will later use to coat and with the stems we will prepare a cream together with the leeks, spring onion, flour and a little salt.
To make the asparagus cream we put three tablespoons of extra virgin olive oil in a casserole. Cut the stems in half and make taquitos with them. Sauté the leeks and chives all together.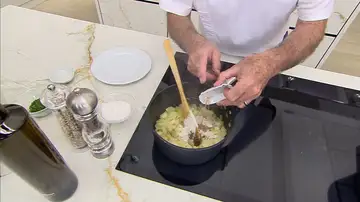 Sauté the asparagus | antenna 3
Add nutmeg, milk and continue cooking for about 10 -15 minutes. If it were thick, add a little water from the asparagus to lighten it. When we have the cream, we pass it to the blender glass to make it fine, fine.
With the tips of the asparagus cooked, we pass them through flour and egg to coat them and fry them.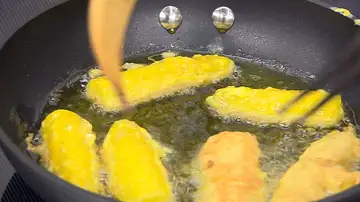 Coat the asparagus | antenna 3
As for the red mullets, we fillet them and season them. If you want a trick so that they do not stick to the iron, place them on baking paper. Place the fillets on the griddle. Once cooked, we only have to assemble the dish. The red mullets, the asparagus and the cream.