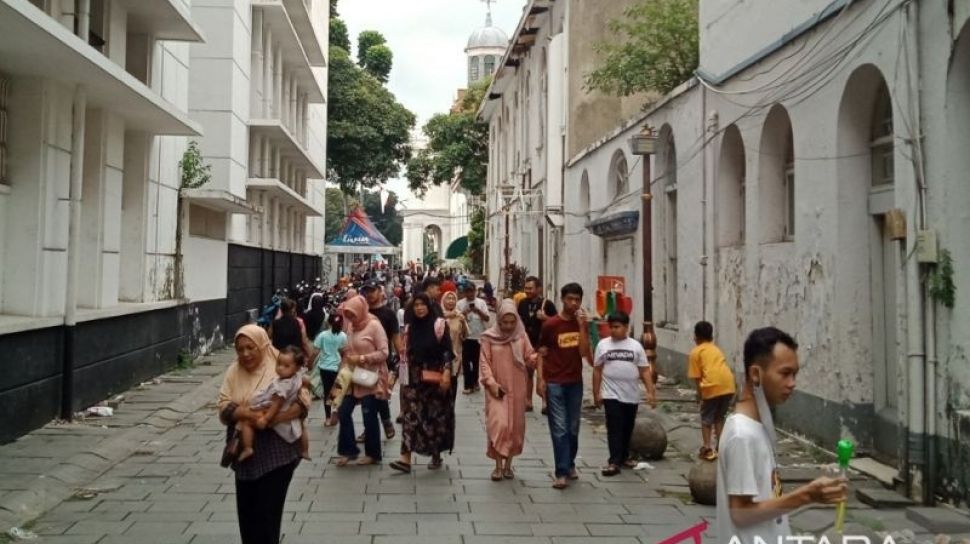 Suara.com – Visitors from domestic and foreign flock to the Kota Tua Tourist Area in Taman Sari, West Jakarta, on the national holiday celebrating the Ascension of Jesus Christ on Thursday (18/5/2023).
Based on data from the Kota Tua Information Center, as of 14.00 WIB, 9,069 visitors had packed the Kota Tua area. That number of visitors consisted of 8,933 domestic tourists and 136 foreign tourists.
The most visitors were in the Lada area, to be precise from 10.00-12.00 WIB, namely 2,572 visitors.
At 15.20 WIB, visitors packed the central area or the Old Town square. Most of the visitors passing by in the area of ​​the square and its surroundings.
Also Read: ATLAS Fully Supports Bali Shortcut Alley Mango Renovation, Expected to Complete This Year
Others enjoy the bicycle rides provided by the Kota Tua management. Some also enjoy the attractions of the Golden Man and the Silver Man as well as other attractions.
There is also a group of visitors who spread out mats on the west side of the square area to eat dishes or provisions brought from home.
A visitor to Kota Tua, Karin (22) comes to Kota Tua with her family for sightseeing and recreation.
"Here (the Old City), I feel very happy. The visitors are busy and there are many rides that can be enjoyed," he said, mentioning the activities and sights at this tourist attraction, including bicycles around, Dutch noni and many more.
"I've been in Jakarta for a long time and I really need entertainment like this because I have to work every day. So it takes time to 'refresh'," said Karin. (Between)
Also Read: Need a Picnic? Here is the 2023 Holiday Schedule and Leave Recommendations