Josie has managed to get everyone present on the set of 'Your face sounds familiar' to their feet after his memorable performance as Andrés do Barro.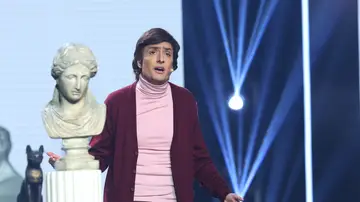 With 'O tren', the contestant has paid an exquisite tribute to the artist and has transported us to the 70s. But the performance has had a detail that has not gone unnoticed: Josie has sung in Galician.
Miriam Rodríguez, a colleague and originally from Galicia, has recognized that she has done it perfectly, and Àngel Llàcer has celebrated that a song in Galician has been performed for the first time in ten years. A historical landmark that you can see in the video above!
For this reason, the president of the jury has been very happy, and has wanted to pay his own tribute to Galicia. Click and don't miss it!