Nintendo fans continue to amaze us. Today we receive news for Super Mario fans, who undoubtedly look phenomenal.
As we have learned, in Airbnb A listing has surfaced for a private studio that has been themed Super Mario. This studio has received a complete makeover in honor of the plumber. The walls are adorned with scenes from Super Mario Bros., creating an immersive environment for video game lovers. In addition, the bed is designed in the style of Super Mario World, allowing guests to fully immerse themselves in the world of Mario.
But that's not all, a selection of classic NES, SNES and N64 games for guests to enjoy. This provides an opportunity to relive those nostalgic moments of playing the Mario games of yesteryear. If you're interested in exploring more of the Mario-themed decorations in this Airbnb studio or booking a stay there, you can click the link provided for more information and booking.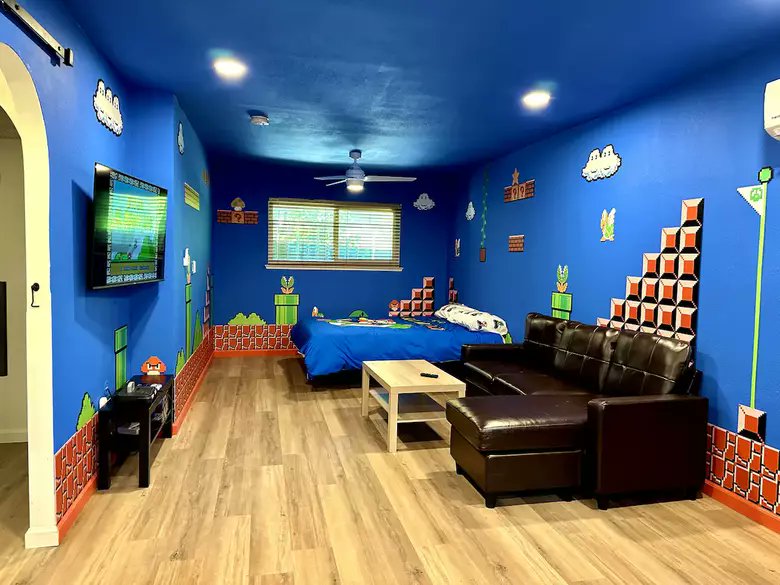 No doubt this private study is the perfect place for super mario fans who wish to immerse themselves in the world of the most famous plumber in video games. Mario-themed décor creates a fun and welcoming atmosphere, and the selection of classic games adds an extra dose of nostalgia and entertainment.
Whether you're looking a unique accommodation experience or just want to relive your favorite Mario gaming moments, this Super Mario-themed Airbnb studio offers an exciting opportunity for video game lovers. What do you think of this news? Do not hesitate to share your opinion in the comments.
Via.