Notice: Possible spoilers for Spider-Man: Crossing the Multiverse
There is less than two weeks left until Spider-Man: Crossing the Multiverse hit theaters around the world to surprise us in style with universes never seen in the saga. However, it seems that some of Sony's own accounts are gradually announcing the odd surprise that this sequel starring Miles Morales will bring us.
This time it has been the official account of Spider-Man in Vietnam who has revealed the supposed arrival of Venom a Crossing the Multiverse through an image in which we see the main villain of the animated film The Spot visiting the mythical store where the journalist Eddie Brock ended up turning into the symbiote to avoid a robbery.
"After LEGO, the Venom universe will also appear in Spider-Man: Crossing the Multiverse. There are many more exciting things yet to be revealed."
Although we have not seen Venom de Tom Hardy In this promotional image, it is most likely that we will see him tumbling through the multiverse along with other characters from the saga. Of course, this may be a joke on the part of Spider-Man's own account in Vietnam, alluding to the infinity of universes that we will see in this film.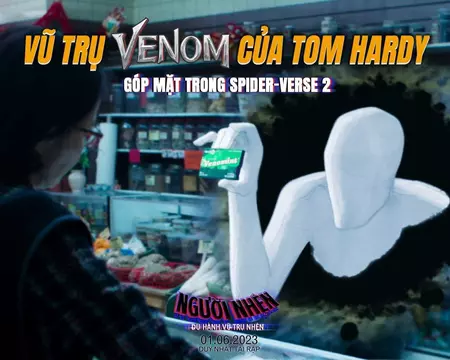 Source: Spider-Man Vietnam Facebook
This would confirm a rumor that spoke about the arrival of this character in crossing the multiverse, so it may also confirm the arrival of Tom Holland's Spider-Man or Andrew Garfield to help Miles Morales in New York. The sequel to this animated film will hit theaters next June 2, 2023.
In ExtraLife | All the Spider-Man games: from the Atari classics to the future of the Marvel hero on PS5, PC and beyond
In ExtraLife | Marvel Studios 2023-2026 calendar: all the movies and series that will come to the UCM