Suara.com – Martinus Jon (51), is currently worried that he will lose his job as a rented caretaker belonging to former Director General of Taxation official Rafael Alun Trisambodo if the rented house in West Jakarta is confiscated by the KPK.
Especially now that Jon is being investigated by the KPK on Tuesday (30/5) yesterday, in the aftermath of a corruption case committed by his boss.
Jon said that if the KPK confiscated the contact and he no longer had a job in the capital, he would return to his hometown.
"Most return home to NTT," said Jon when met at Rafael's rented house, in Srengseng, Kembangan, West Jakarta, Wednesday (31/5/2023).
Also Read: Bickering while on a motorbike looking for a place to rent, wife stabs her own husband
Regarding the examination material at the KPK, Jon admitted that at that time investigators had asked him about the flow of funds suspected of being the proceeds of money laundering (TPPU), whether they had ever flowed into his account.
"I said I don't have an account, just check it. It's proof of account. I always get paid in cash," said Jon.
Jon also admitted that as a house keeper he never received rent payments from tenants.
Every time payment was due, continued Jon, Rafael Alun's son, Kristo, always came to the place.
"Every month the children will definitely come here. Only one here," he said.
Read also: Mario Dandy has a special room in the detention center, can make video calls, different food allowances, and has a brother's support! Is it true?
While working with Rafael since 2010, Jon only received Rp. 1.4 million in wages. Although the rented house that he takes care of reaches 21 units, with rental prices ranging from Rp. 1.8 to Rp. 2.5 million.
Previously, when he was just working as a rented guard, he was only paid Rp. 900,000. Then there was an increase in 2012.
"A month's salary, IDR 1.4 million. I've never received big money, at least it's only payday with THR during Eid," said Jon.
Confiscate Rafael Alun's Assets
Previously, the KPK admitted that it had confiscated a number of assets belonging to Rafael Alun Trisambodo. These assets consist of houses, boarding houses to Land Cruiser cars.
Head of KPK Reporting Section Ali Fikri said the confiscation was part of the investigation into money laundering or TPPU that ensnared Rafael.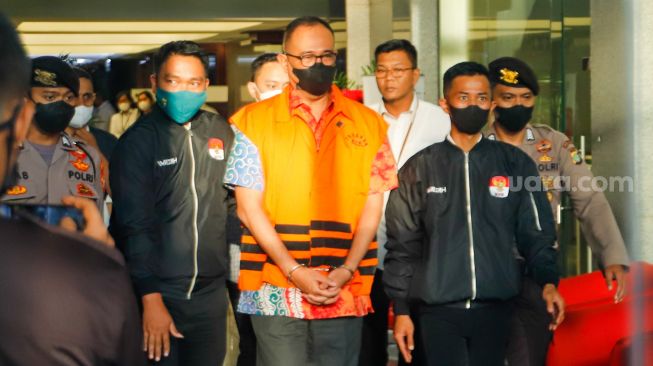 Former Head of the General Section of the South Jakarta DGT Regional Office II, Rafael Alun Trisambodo, was detained by the KPK. (Suara.com/Alfian Winanto)
"In Jakarta, the KPK has confiscated houses in Simprug, boarding houses in Blok M and rented houses in Meruya, West Jakarta," said Ali on Wednesday.
Then in Solo, Central Java, the KPK seized two Toyota Camry and Land Cruiser types. Meanwhile in Yogyakarta, the KPK also confiscated a large 1200cc Triumph motorbike.
"KPK is still continuing to follow the money and identify assets related to this case to optimize asset recovery from the proceeds of corruption," said Ali.
Rafael was again named a suspect in the crime of money laundering or TPPU. The determination of the suspect was based on the results of the gratification investigation that previously ensnared Rafael Alun.
Rafael Alun is suspected of hiding his gratuities while serving as a tax official at the Ministry of Finance. Currently, the Corruption Eradication Commission is investigating the KPK by tracing its assets and examining a number of witnesses.
The suspect, Rafael Alun, has been detained by the KPK since April 3, 2023. He was initially suspected of receiving USD 90,000 worth of gratuities. The KPK predicts that the gratuity rate will increase.
He received the flow of funds through the company PT Artha Mega Ekadhana (AME), which is engaged in tax consulting services.
Rafael is suspected of violating Article 12B of Law (UU) Number 31 of 1999 concerning Eradication of Corruption as amended by Law Number 20 of 2001.