It does not matter that we saw it coming from far, far away: it is impossible to talk about the new controller with a PS5 screen without making an obligatory mention of Wii U. Or, rather, to that command that was neither a console in itself, nor the promised revolution when it came to playing. Does it make sense for Sony to continue a path that did not work for Nintendo? Let's get in situation.
The Wii U console had a really bad reception. By way of illustration, in three years of existence it sold as much as the last Zelda in three days. That put Nintendo itself on the ropes, which not only had to make a move but also adapt to changes as unlikely as the arrival of its sagas on mobile phones. That being said, in 2017 Nintendo Switch changed the rules of the game and, consequently, transformed the landscape.
That's not to say that reading is as simple as it seems: what works for The Big N doesn't always work for everyone else, and this works both ways. Above all, when the current context of PS5 is so different from what Nintendo was going through in 2013, and the habits of the players have also changed compared to those of then.
From here the doubts arise by themselves: what exactly does this new PS5 controller do, and why has it been announced in the middle of 2023 when even Valve has dared to take video games beyond computers with Steam Deck. Well, technically therein lies the answer.
A 100% DualSense controller… That follows the path of Nintendo
Under the code name of Project Q, Jim Ryan himself assured that this new peripheral for PS5 will allow remote play of the games that we have installed on the console. What's more, he advanced that all the features of the DualSense -we want to understand that from the adaptive triggers to the microphone- they will be present.
The novelty, it is obvious, is its 8-inch LCD screen. One that, in fact, will display games at 60fps, although its resolution will be limited to 1080p. And even in those there's fine print: as you'd expect, games that only work through VR won't work on Project Q.
In fact, and specifically, the clause has been made that the game must be previously installed on the console. The way to broadcast the games is to use Remote Play via Wi-Fi. Is there another way? Well, there's PlayStation Plus Premium cloud gaming, but the bottom line is that the Project Q device neither stores games nor runs them: It's just for broadcasting.
And despite the fact that there are consoles that work via streaming, such as the Logitech G Cloud, Sony's new remote is definitely not a console: just like the Wii U remote. It does not have autonomy to work when the PS5 is turned off. And yet, it should be remembered that the door to remote play on PlayStation has been open for years.
Crucial fact: you don't have to wait for Project Q to play remotely on PS5
The basic idea is simple: that you can take your games beyond the TV. Something that Switch achieved with enormous success and Microsoft offers through Xbox Cloud Gaming (included in Game Pass). A trend and priority for many users when choosing a console.
And despite the fact that -on the other hand- Sony already offered it to PlayStation, the great disadvantage of its system compared to alternatives from Nintendo, Microsoft, Valve and many others is still there, you won't be able to get too far from your doorstep.
In fact, it is not something that catches us new: the same day that it was announced in Project Q, the Backbone One – PlayStation Edition peripheral was put on sale, which allows PS5 remote play through Android and iOS mobiles through PS Remote Play, the free PlayStation app with which to transmit the content of your console (if you enable it) to a mobile or tablet.
Because it is worth remembering that even without this accessory you can already play your PlayStation from your mobile, either through its touch screen using buttons that appear on the screen or through connecting DualSense via bluetooth to your mobile.
So, What's the point of Project Q? Well, we are not going to deny it: the broadcasting of video games is one of the great pending subjects of PlayStation, so the PS Remote Play is a solution that in a way to fully enjoy your games.
The other reality is that, for a change, Sony has offered the announcement, but instead of explaining what it will bring to the player, essential elements such as its price or the final name have been left in the air. The reason? The ground is being paved and, at the same time, expanding the possibilities of PS5 when establishing the brand. And they do well.
Sony faced with a front in which it was lagging behind (although it has always had it covered)
As we mentioned at the beginning, the reality of PS5 has nothing to do with the problem that Nintendo was having 10 years ago, but its technology is advancing in very different directions: despite betting heavily on Virtual Reality, is lagging far behind in aspects such as remote or streaming play.
That the habits of the players go in that direction is a problem that sooner or later must be tackled: although it is not possible to continue playing with Project Q if you separate too much from PS5, the ninth generation, PC users and -especially – Switch players have shown interest in continuing the game in progress without depending on television.
Yes indeed, you will have to buy a PS5 and have the game installed. Because if Microsoft's great goal is for its Game Pass service to be in the largest number of homes, Sony's is and always has been to sell consoles. And, as we will see, the raison d'être of Project Q is going in that direction.
But let's go back to basics: as we discussed, the best solution is not PS Remote Play. It is not that there is no infrastructure: quite the opposite. One of the reasons to continue having PlayStation Vita out of the drawer is to be able to do a second screen on it.
What's more, if we go to the tab of almost any PS5 game we will see if it is optimized for remote functions.
However, to what extent is it worth it for Sony to produce a new portable console or to measure itself against a Switch whose sales figures do not seem to have a ceiling? The truth is that at the moment it is too risky a move, so the Project Q is a third way to avoid having to compete with Switch and, in the process, give the PS5 numbers a little push.
And we will not deny it a great probe to see how much interest there is in a new PlayStation portable.
The raison d'être of Project Q: a command that arrives at a key moment for PS5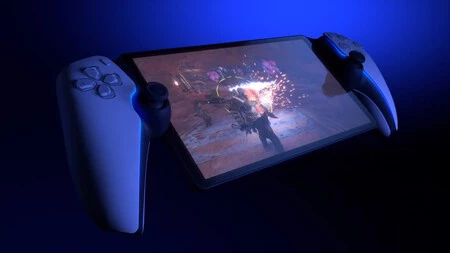 At this point it is time to talk about a Sony invention that did not finish working: PlayStation TV. Technically a PS Vita in the form of a microconsole that was touted as a way to broadcast desktop PlayStation games on a second TV using the same technology as Sony's latest handheld. One of many devices that were relegated to oblivion.
In the past we have seen ideas that didn't work come back with a bang. In the case of Sony, we have a PSP Go that was a failure for turning its back on the physical format. How much has rained since then!
Thus, the time to resume those plans (that did not work on Wii U) through Project Q is now: Sony has the infrastructure to make it work and more than 30 million PS5 consoles in homes. What's more, the availability problems are over. Moving a tab later is already arriving very late and before it didn't make any sense.
And, most important of all, even if the price of the controller is very high, another even greater milestone is achieved: establishing loud and clear that PS5 is a console where you can also continue playing your favorite games lying in bed or while you wait for the toasts to heat up in the kitchen. Regardless of the commercial reception that the command has.
Mere whim or an improvement in the quality of life of the player? Well, in the absence of having a price with which to weigh whether to take the step, the big question is not in what it can or cannot do, but in the not so small big details such as how long we can play before having to put it back to charge. Given what has been seen, it will take longer than desired to have an answer.
In ExtraLife | What do the symbols of the PlayStation controller mean and why in Japan they press them backwards
In ExtraLife | PS3 was going to have a banana-shaped controller: the story of the craziest E3 on PlayStation