What's outside the box of the most famous images on the Internet? It is likely that you have ever asked yourself this question. And unless you can find behind-the-scenes data or the Uncut source material (in the case that it existed), it is difficult for you to get an answer.
This scenario can change if you resort to your imagination and certain traditional or digital tools and resources. Depending on your technical and creative skills, you could create a contextual visual that goes beyond the original image frame.
AI changes everything
It's no secret that this would translate into laborious work. If you don't take artificial intelligence into account, of course. The generative solutions they seem to be here to stay, and the latest in Photoshop has become a viral social media phenomenon.
We are talking about "Generative Fill", which could be translated into Spanish as "generative fill". As its name implies, it uses AI based on Adobe Firefly and can be used to create parts of images that do not exist with the context as a frame of reference.
The results are certainly quite amazing. So much so that social networks have echoed its possibilities. Let's look at some examples of how users are using this Adobe tool to reimagine some famous images (although it works with any type of image).
Michael Jackson's 'Thriller' album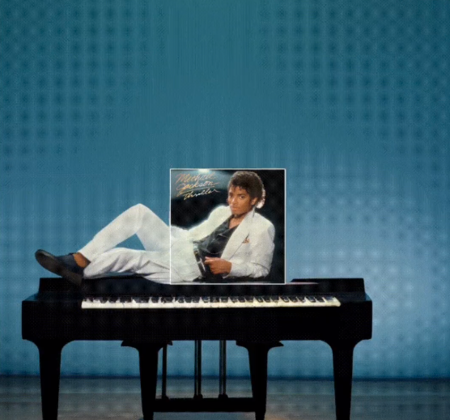 Almost all of us have seen Michael Jackson's 'Thriller' album cover at some point. We see a well-defined plane that leaves part of the artist out of the visual composition. Well, the AI ​​has been in charge of offering us a more open plan (the white box shows the original image). Starting from this example, we go with more.
Adele's album '21'
The Beatles' Abbey Road album
Álbum 'Teenage Dream' de Katy Perry
Álbum 'After Hours' de The Weeknd
Viral and popular memes
Examples of the possibilities of this new Photoshop tool are numerous on social networks. A search for the term "Photoshop generative fill" on Twitter, for example, returns hundreds of different images. It should be noted, however, two important things.
On the one hand, it is a tool available only in Beta versions of Photoshop, so it has not yet been rolled out to everyone. On the other hand, although its results are amazing, it is additional content completely invented by the AI.
It is advisable to pay special attention to this last point. Since we are living in a world where all or part of the images we see may not be real, we don't have to wait for the future. This represents increasingly important challenges when it comes to verifying the veracity of any visual composition.
Images: Twitter screenshots
In Xataka: Captcha has proposed to make it even more difficult for us: generating puzzles through AI