Rosario has been the first coach to close her team. Little Daniela has managed to conquer Rosario by singing 'Love of my life'. Despite the nerves, the talent is already in 'La Voz Kids'.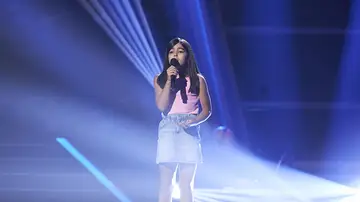 Now it's Lucy's turn. The 13-year-old talent arrives from Mallorca willing to do anything to try to get into 'La Voz Kids'.
The little girl has sung 'Just give me a reason', a well-known song. Despite putting her heart and soul into it, the young woman has not managed to convince any of the coaches.
The little girl could not avoid the shine in her eyes when she saw Aitana and she began to cry. Aitana has gone to hug her right away. The coaches have invited her to appear at the next edition of 'La Voz Kids'.
Although it didn't happen, Lucy is very happy to have met four very great artists and she has a wonderful experience. We will wait for you!