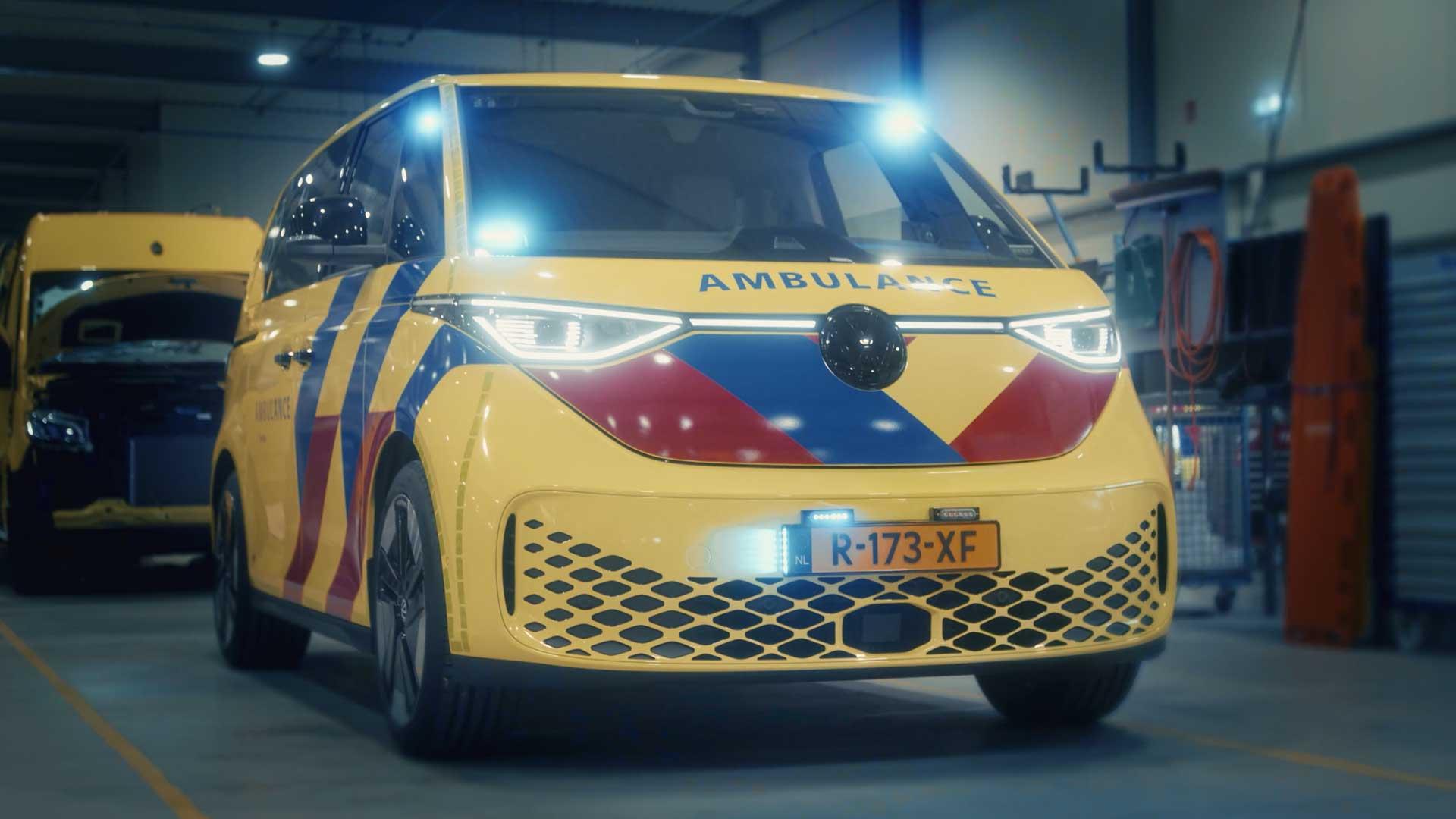 This is probably the loudest electric car in the Netherlands. At least, if there's an emergency. This Volkswagen ID. Buzz ambulance can be spotted in Drenthe and Friesland. The company Visser from Leeuwarden converted the electric van and in the near future UMCG Ambulance Care will test with the not so silent EV.
The Volkswagen ID. Buzz ambulance is used by the Medical Officer (OvDG). The OvDG has a coordinating role in the event of accidents and, in principle, does not come to the scene to provide assistance to patients. That is why this electric bus does not have a stretcher in the back. In the back you will find a few medical cases and, for example, a defibrillator.
In order to guarantee the range as much as possible (insofar as this is possible for emergency journeys), the Amsterdam method has been chosen for the flashing lights: behind the windows. For example, there is no need for a light bar on the roof that disrupts the aerodynamics. There are also shocking innovations such as a defibrillator that is (indirectly) connected to the large battery pack of the Volkswagen ID. Buzz ambulance.
The top speed of the Volkswagen ID. Buzz ambulance
The top speed of the Buzz is 145 km/h. During the day, ambulances are not allowed to go faster than 140 km/h anywhere. In the evening they can be louder. Where we drive 130 after 19:00, ambulances are allowed 170 km/h. The Buzz does not make it, but Visser reports to TopGear that the speed of this electric ambulance is usually sufficient in practice.
In any case, the Buzz is popular with companies. You can also spot it as a Renndienst of the Porsche dealer or as an ANWB van. And who knows, the Buzz GTX with 340 hp may soon wear a police uniform.