Lithium extraction represents an environmental threat and for this reason the dimensions of electric vehicles must be reduced while waiting for alternative technologies for accumulators. A study by the University of California also says it (again).
29 maggio 2023
Everything we do has consequences for the planet. However, the awareness of leaving an imprint on our Earth should lead us to adopt increasingly virtuous and less harmful behaviors. This is what we are aiming to achieve with the energy transition in the world of transport, but, as we know, it is not a painless or zero-cost transition. In particular mining activities are often under fire and it is certainly a known problem to which solutions are being sought which, however, are not yet industrially feasible at the moment. "Large-scale mining causes social and environmental damage," says a study carried out at the University of California and reported in January by The Guardian and more recently also by Visordown. These unwanted side effects can include a increasing drought intensity and reducing biodiversity.
Social exploitation: a story already seen

According to the US study, "79 percent of known lithium deposits are within 35 miles of Native American reservations," and mining operations are often started without obtaining permission from the indigenous people of the area. In this, the new era of electric propulsion follows a pattern already known at the time of the oil wells.
Therefore they stand out both environmental and social problems concerning mining, well known and evident especially outside the United States in countries such as Chile and Argentina which have become reservoirs of Western Lithium.
No more SUVs, but smaller and lighter vehicles

In order to have less polluting vehicles, not only in terms of local emissions but throughout the entire production cycle, they should therefore use as little lithium as possible as its extraction is currently not a sustainable practice. Instead, the car industry offers large and heavy cars with large batteries and often not very efficient even from an aerodynamic point of view. As argued by the same study by the University of California we should instead change approach to transport and move from mainly private mobility to increasingly public or small-scale mobility. This is because in the case of the e-bike or the electric bus, the amount of lithium required to move a single individual is much lower than in a car and even more clearly if the car is large as it is perfectly explained by The Guardian infographic below: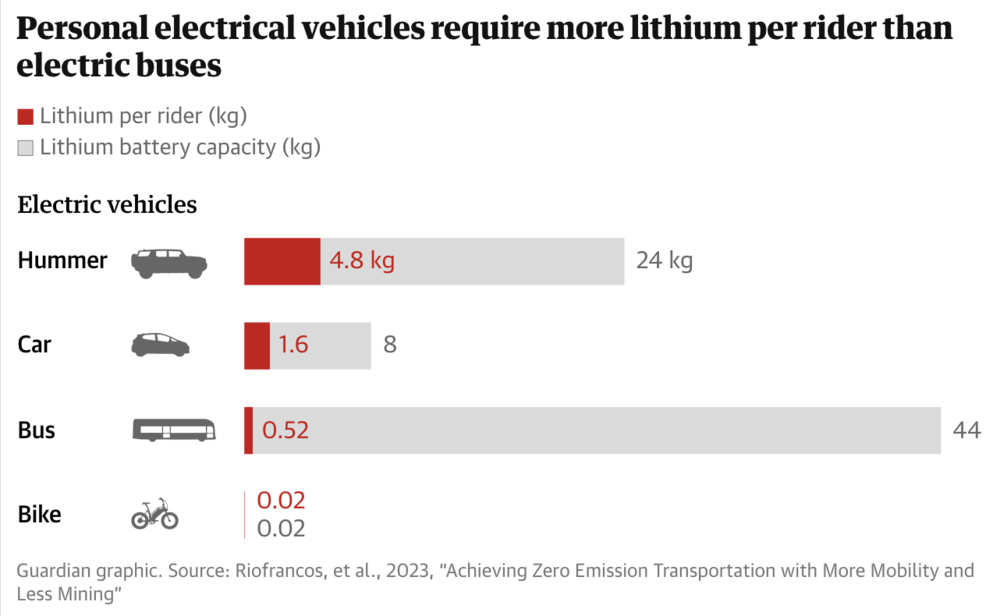 The Guardian
We should therefore all rethink not only the way we move but also the city spaces. In other words, if it weren't clear yet, we are facing an epochal change that should be interpreted as a great opportunity to straighten out our direction of travel, before hitting a wall as the philosopher Serge Latouche ruled a few years ago.
The revenge of the little ones

Smaller, individual vehicles and smaller conurbations make travel easier, less expensive and more ecological. Minimizing the energy used per individual and maximizing the capacity of each vehicle to carry passengers should be the goals with which public and private transport are designed.
"Our findings," the study continues, "show that reducing reliance on private vehicles, densifying low-density suburbs by enabling more people to live in existing high-density urban spaces, and improving vehicle efficiency electricity and reducing battery size are the most effective paths to reducing future lithium demand."
Ok everyone on the bus, but… When is it fun?

In the more virtuous scenario envisaged, however, a component is missing that we motorcyclists know well, namely the pleasure of moving, driving, travelling. And it's not just our need as lovers of motorized two wheels. It is precisely the exercise of an individual freedom because we don't move only to reach a place of work, but also and very much for other activities that concern us personally. It's fine to use collective public transport whether it's bus, tram, subway or train, but what about when we simply want to go where… do we want? The study seems to overlook this aspect and in our opinion it is a very serious shortcoming. We cannot reduce the world of transport to the simple movement from urban to suburban area and vice versa because that's an oversimplification that doesn't account for many other moving needs. This is why we are increasingly convinced that the light mobility proposals offered by e-bikes, scooters and motorcycles should be considered a great resource for the future not only in urban areas but also when it comes to leisure travel. As far as four wheels are concerned, however, the focus should be on efficiency, on limiting the weight and size of the battery as well as on making the consumer increasingly aware in choosing the right car for their needs.
The environmental impact of lithium extraction is one of the hottest issues of the energy transition and is often used by detractors of the electric power to defend their theses and the status quo. Unfortunately, the solution is not to stay where we are as much as it might be convenient for many. The transition to a new awareness and a new mobility is mandatory. The consequences of oil extraction are even more devastating as Visordown always reports: the Offshore Petroleum Regulator for Environment and Decommissioning found that "just under 13,000 tonnes of oil were released into UK waters by the oil and gas industry", between 2017 and 2022. Among the the top five oil companies would not have one that hasn't exceeded the allowable limit for spilled oil, according to Offshore Technology.
As we mentioned at the outset, there is no human activity that does not leave an environmental footprint. The consequences of lithium mining do not make those of petroleum extraction, refining and burning disappear. However, this is a new challenge that must be faced and overcome because we have a duty to build a better society.