A video clip from Trans TV's "Brownis" program became the talk of netizens after it was discovered that the guest stars were invited to imitate gymnastic movements.
Launching the Brownis YouTube channel, which was broadcast on May 17, 2023, it features a guest star, a gymnastic instructor who is currently viral on TikTok, named Deo Valent. In addition, there were three guest stars for paralympic athletes, namely National Runner Joko Kuncoro Adi, Amputation Footballer Agung Rizki Satria, and Racer Yahas Nur Rahmat.
Initially, Deo Valent was asked to challenge the hosts, Ivan Gunawan, Ayu Ting Ting, Wendi Cagur, and Ruben Onsu to imitate gymnastics. However, three athletes with special needs were also invited to imitate Deo Valent's gymnastics.
One of the guest stars, Agung Rizki Satria, revealed that initially the creative team asked Deo Valent to challenge the hosts to follow the gymnastic movements. However, the hosts actually asked them to participate.
Also read: Opick does not deny that his household has problems: but everything is fine
Agung and Joko Kuncoro then stood up, while Yahas Nur Rahmat, who used a wheelchair, imitated the movements with his hands.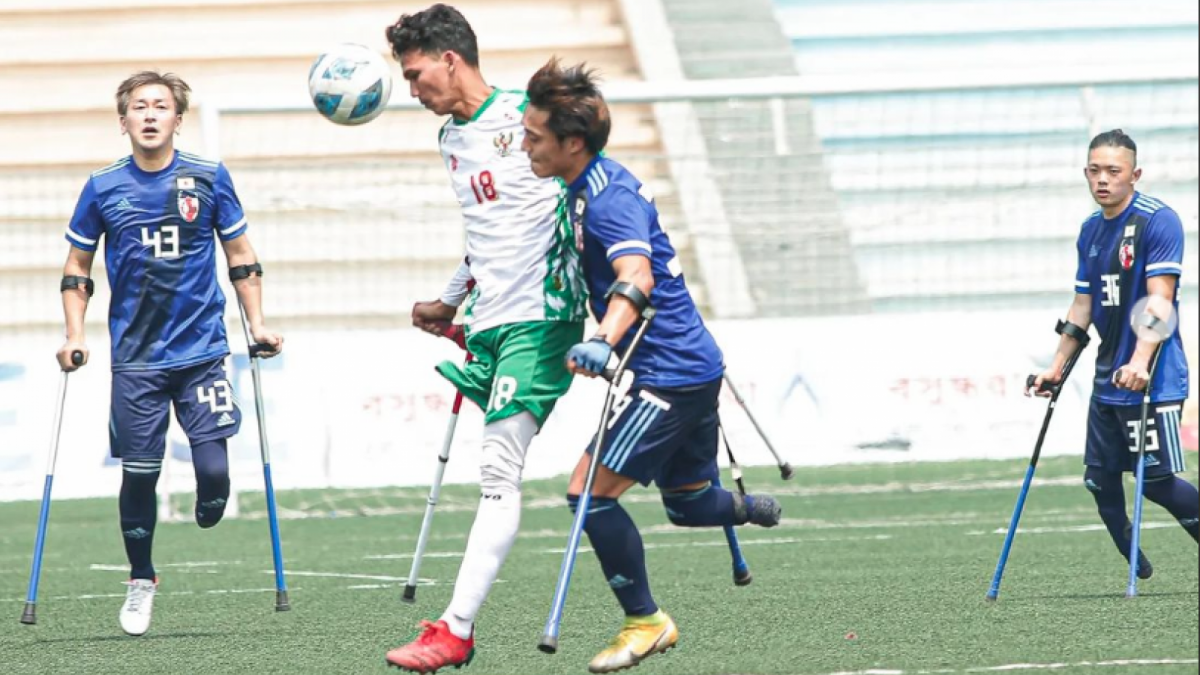 Amputee footballer Agung Rizki Satria during a soccer match. (source: Instagram/@agungrizkii_15)
Agung revealed that at first he wasn't sure if they would actually copy the movement, but seeing Joko Kuncoro taking part, Agung got involved too.
Even so, Agung admitted that he had difficulty imitating the gymnastic movements in the middle. He mentioned that he could still do a little hand movement, but when the music changed, they only did the movements roughly.
Even so, Agung thought it was not a problem for him. He also understands if there are views that consider the broadcast inappropriate.
Agung said that at first he felt embarrassed as when he remembered his school days, when it was difficult for him to follow the movements of his friends. However, he didn't feel sad and just wanted to tag along more.
Read also: Exco PSSI: There is no guarantee that Lionel Messi will come to Indonesia
Agung lost his right leg in an accident when he was 7 years old. Currently, he is one of the players for the Indonesian Amputee Football Team who has won many achievements.
Separately, Komnas Perempuan commissioner and disability-inclusive movement activist, Bahrul Fuad, stated that the broadcast showed a lack of sensitivity in society towards persons with disabilities. Although not to the level of humiliation or harassment, this reflects that social inclusion in Indonesia still needs to be improved.
According to Bahrul Fuad, this is an indicator that the spirit of inclusivity in society has not been fully realized. Even though we are trying to build an inclusive society, we have not been able to," he said.