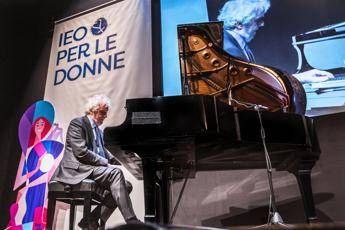 "I was treated at the European Institute of Oncology several times. When I returned, 16 years after the first time, everything had changed. I found myself in front of a monstrous machine that looked like a cross between a prehistoric being and an oil drill . A car that revolved around me while I was motionless. It looked at me, it had eyes, it moved in its own way, then it stopped. And I was paralysed. Then, they explained to me, it gave an ok which was reiterated by the professors, and it was shooting radiation. I lived with this being for a few weeks and, at the end of this experience, one of the ways I found to metabolize it well was to write a concert for clarinet and orchestra dedicated to this machine, which was called 'cyberknife'" . It is the story of Nicola Piovani.
The composer, who won an Oscar in 1999 for the music of the film 'Life is beautiful', today shared his story of oncological disease with over a thousand patients who arrived in Milan from all over Italy to celebrate 'Ieo per le women', an event dedicated by the European Institute of Oncology to those who have experienced or are experiencing breast cancer. "Transforming" experience "into the language of music is the richest way through which I can say as many things as possible", he explained. Piovani did it even with the disease. "At the Brussels festival we presented this concert in three movements, entitled Cyberknife. It was my way of participating in that experience and today of witnessing my affective presence at this event, with music".
The Cyberknife to which Piovani referred is a sort of radiotherapy robot, it is generally described as an anti-cancer 'scalpel ray', and is capable of targeting neoplasms in an ultra-precise manner, while preserving healthy tissue as much as possible. A crucial quality for complex tumors in delicate and insidious areas. Piovani also highlighted with his experience how technology has evolved over time.
"The first time the radiotherapy machines treated me – said the musician – I was very impressed by these objects. But the second time, when I returned 16 years later, everything had changed. I was already ready to start over that reassuring journey that already I knew, I remembered those circles" of classic radiotherapy. "And yet" was no longer so. It is on that occasion that he meets the 'monstrous machine' that inspired his music.
Piovani was followed in his oncological journey by Roberto Orecchia, scientific director of the IEO, who with regard to the Cyberknife affair said amused that he had also been called "from California, by the parent company" who asked for information on the musical composition entitled Cyberknife. The concert "among other things will be resumed – explained Piovani – in the coming seasons in the programs of the Accademia di Santa Cecilia in Rome".
"The first Oscar-winning machine tested", commented the journalist Mario Calabresi, on stage among the protagonists of the day. "Then – Orecchia proposed to Piovani – perhaps without the need to prove it personally, we will write something about protons". The next step, as regards the last frontiers of oncology, "are also them – concluded Orecchia – but not only. I am also thinking of the possibility of increasingly integrating imaging into technologically advanced tools, to see the target you are dealing with". And to guarantee increasingly "faster and more precise" treatments.
LOOK AT THE DISEASE WITH OTHER EYES – "For more than 15 years we have been celebrating this day with our women. And in all this time medicine has changed a lot, the possibilities of recovery have changed, the quality of life of the patients has changed. That's why we could look at breast cancer "with different eyes". the clinical reality, with a cure rate that today exceeds 95% of cases for initial tumors, and what is the look, the feeling of women when they read the word cancer". It is the image chosen by Paolo Veronesi, director of the Breast Program of the European Institute of Oncology in Milan, to describe the state of the art today for breast cancer.
"Even if perhaps the diagnosis is a small non-invasive tumor in situ, for which a 100% cure is expected – she explains – this word still upsets life, takes away sleep. And women often take years to recover their security, their certainties. So today we want to use a newer tool, such as podcasts, to leave the audience of this theater and be able to reach women" with tracks that can be listened to on all free audio platforms, "so that they can understand which it's the news, hearing the experiences of other women treated, healed and gaining confidence in the future".
'With other eyes' is the theme of the 2023 edition of Ieo for women. One can look at breast cancer in this way for several reasons: effective therapies also against metastases, constantly growing healing rates, tests that also identify the risk of cancer, treatments that respect life plans, including that of motherhood, list the experts in a day that had Angela Finocchiaro, Nicola Piovani and Mario Calabresi as special guests. "First of all there are new treatments – observes Veronesi – The 'smart drugs' have finally reached patients, children of the decoding of the genome, even for the most advanced forms. I am thinking of conjugated antibodies or immunotherapy". Furthermore, continues Veronesi, "prevention has improved, so much so that today we are able to identify even better the people at greater risk of getting sick. Until a few years ago we knew 5 or 6 genes that predisposed to the development of the disease; today we know at least the double and, if we discover the carriers, we can activate special surveillance programs. The improvement of treatments has also allowed us to deal even more extensively with the life of the woman beyond the disease. We have learned to preserve fertility whenever possible ", to ensure that women also take care of their sexuality and their physical and mental well-being in general, without considering them as superfluous elements. Changing the perspective of women, doctors and society in a positive way would already be a victory over cancer".
FINOCCHIARO AND BREAST CANCER: "CRUCIAL TO DRIVE IT OUT OF THE HEART" – "In 2010 I had breast cancer surgery. I was particularly attentive to prevention, I had checkups every year. For me it was better to have had the opportunity to have surgery right away, because I can't let my anxiety boil over. It was just before Christmas, within a few days I entered the operating room. The moment you intervene, you do things, you act, I go like a tractor, I have to solve. The aftermath, however, is more subtle, because "the tumor" affects an important, very important part of our body. And then it becomes more subtle in accepting oneself. part of looking at yourself and thinking that in some way we have suffered an impairment. An impairment which, I insist, is more precisely something that subtly remains in our minds, in our hearts". When the 67-year-old actress Angela Finocchiaro was confronted with the experience of her illness, a sentence by oncologist Umberto Veronesi rang in her mind: "It is more difficult to drive cancer out of women's minds" than from their body.
Think back today, on the sidelines of IEO day for women. With the patients present in the audience, Finocchiaro explains to Adnkronos Salute, "I wanted to share this thought of Veronesi's, this phrase that resonated in my mind so much". In 2010, he goes back to his story, "with the ultrasound the doctors noticed something that instead, in that case, the mammography did not read. In my experience, therefore, they are very important tests, they are not particularly invasive and I, for example, when I was not old enough to have a mammogram, I had my ultrasound every year." It was useful to set off "an alarm bell". And "when there was this alarm bell I intervened – continues Finocchiaro – In some way I caught it very early" the tumor. "After the operation, I started going around the 'seven churches', because there were different evaluations, it was a very small tumor and it was a question of understanding what therapies to do. In the end I had radiotherapy and I took the drugs , complete protocol. Perhaps today it would already be different, I think some treatments have already changed", he reflects.
At the time Finocchiaro was 55 years old, her family was close to her. "I shared that period right away with my husband Daniele, my two children. How did they react? They ignored it, probably because there's always this thing that I'm particularly very active, apparently. So – cooked and eaten – I'm back home, we celebrated Christmas, and period. They were faced with a person who continued to lead his life normally". The theater itself helped her in those moments, she says. "Now I tend to forget certain things, however at the time I also did theatrical performances and this means a lot. The fact that I have made my mind inhabit by other things, since I'm obsessive, certainly helped me a lot". "Otherwise I would have been around this thought. Luckily I managed to reconcile my daily life and the therapies".
Accepting oneself, 'evicting' the tumor from mind and heart. "That's where everyone has to find a way out of it, because the fantastic thing is that this type of tumor can be resolved by 90% or more," says Finocchiaro. The invitation is not to be paralyzed by fear. "Lately I had catastrophic news from a friend who didn't make it. She didn't want to intervene, fear overwhelmed her. This must not happen", he exhorts, also inviting us to be confident in the possibilities offered by the medicine. Even if there are always questions. "The thing that intrigues me is why. Why so many – asks the actress – why has the age decreased, why us, at the breast, why? I'd really like to know".