You'd almost feel a little blasé about the outright bombardment of new Chinese EVs that's been pouring out on us lately. Especially since some claim to reinvent the wheel while they are not that spectacular at all.
And where you can still score best with 'cheap' as a spearhead, here in Primark country, it becomes a different story when BMW prices are charged for as yet unknown self-proclaimed 'premium machines'. At least, if they ever actually appear on the road, because even that often turns out not to be a certainty.
Nio is building its own world
Even so: without valleys you have no peaks, and a name that has stood out from the beginning of the Chinarative is Nio. That brand is busy (with the necessary input from Germany and the US) to create a series of attractive and well thought-out cars, with a world of its own around it.
A world of battery exchange stations, users instead of drivers and Nio Houses with cafes, discussion forums and children's playgrounds. And they offer the choice between buying, buying with battery rental (and therefore battery changes) and different types of subscriptions. Different than usual, you could say.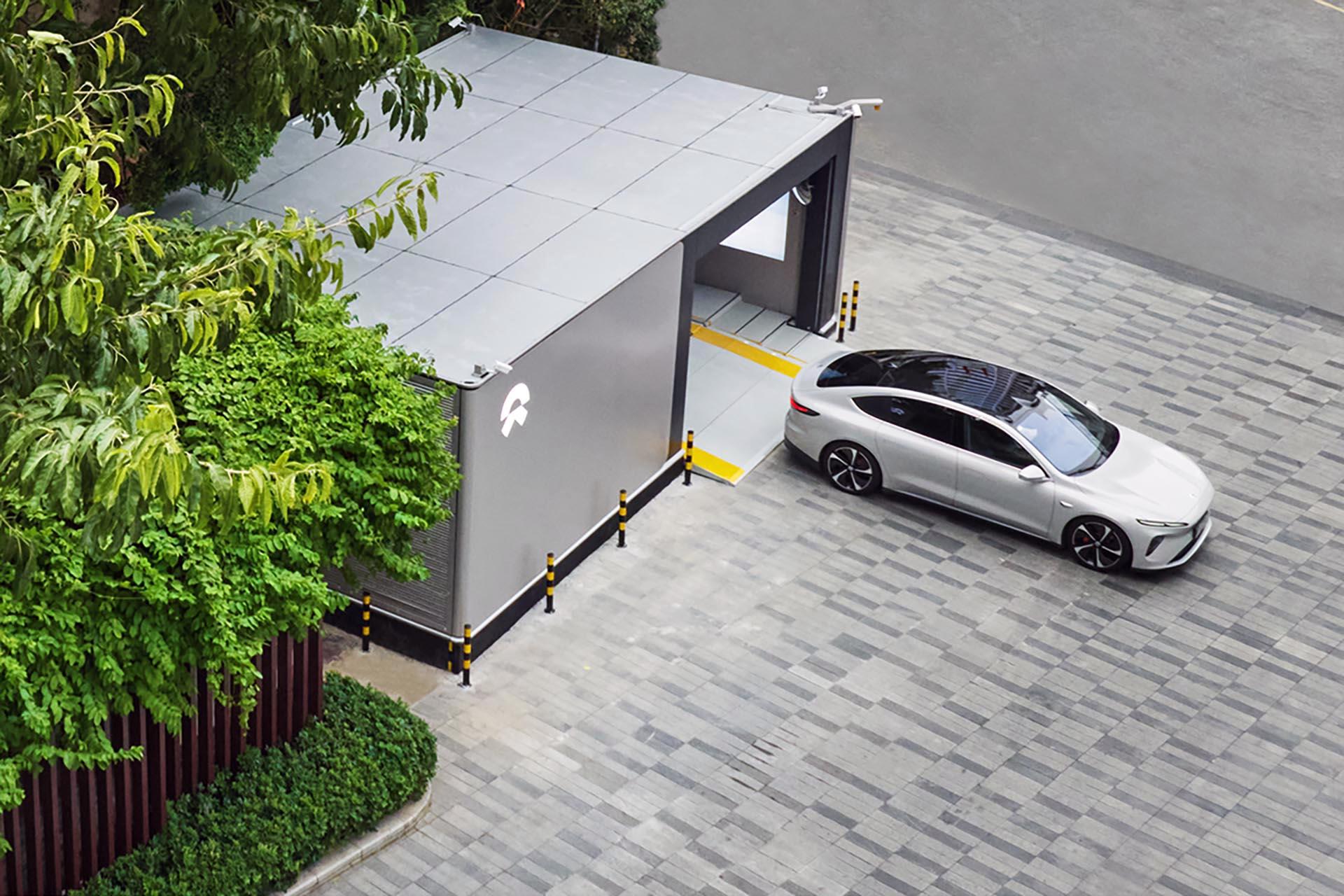 Nio does Formula E and has countless models driving around in China. In Europe, the long and luxurious ET7 sedan kicked off last year, and now this Nio is number two on our roads: the Nio EL7, an SUV in the GLE and X5 format.
The Nio EL7 is quite well equipped
It is available with batteries of 75 or 100 kWh and in one version: loaded. That means you not only get air suspension, leathery non-leather, 1,000-watt audio, a lounger seat and extensive infotainment, but also 22 systems with lidar, radar, cameras and sensors – including those in those bulges on the roof – that work together to make your Nio drive autonomously. Only that is not yet allowed in Europe, so the tech is now being used to improve the software for when it is allowed later.
"What about the Chinese government's eavesdropping devices?"
We cannot leave the elephant in the room undiscussed: a Chinese machine that transmits data does not sit well with many people, as we notice every time we write about these cars online. Nio offers an Enhanced Privacy mode that does not forward this type of data, but you still drive around with a collection of cameras – aimed at the environment and at yourself – that continuously record everything.
The same applies, of course, to cars from Western and other Asian countries, although you probably don't have the same feeling about them. How dire all this really is remains to be seen – but if you're really uncomfortable with it, you might want to throw it out during a lively debate in a Nio House. We are not directly versed in in-depth privacy issues; tested in cars. And in that area, the Nio EL7 comes out surprisingly.
The Nio EL7 looks good, but we are still missing something
You can find everything about his appearance, but the word 'ugly' will probably not be used quickly. We think it's fresh and fluidly designed, and also a lot friendlier than some rolling chopper exercises from established brands. You can immediately make a side note there: isn't it designed too friendly for this class? It doesn't really stand out on the road, certainly not in a decent color.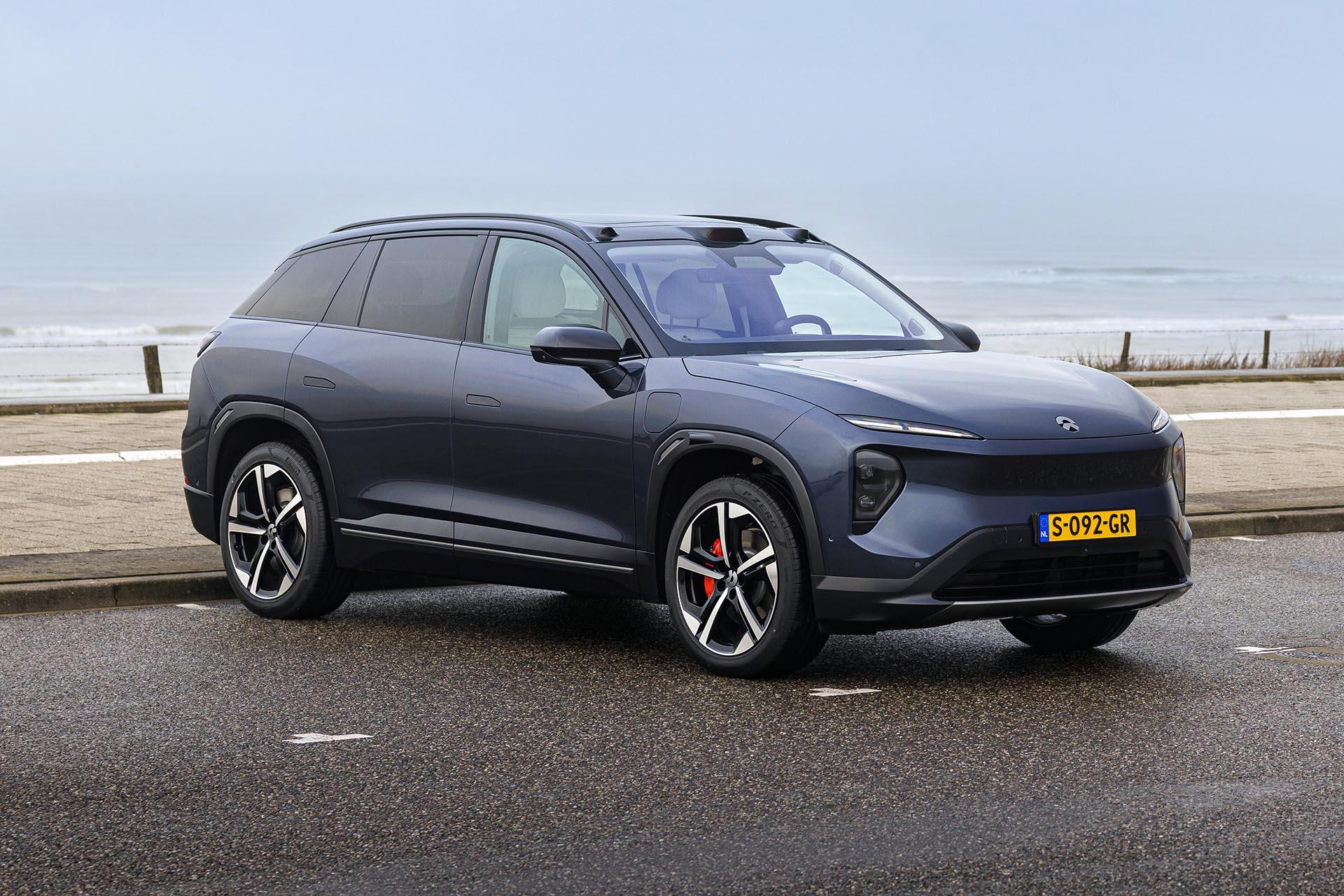 Inside, the Nio EL7 has an almost Scandinavian feel, with calm, clean lines, durable rattan wood, no vents (the entire dashboard breathes air) and a modestly sized screen. There are switches for the windows and three buttons on the center console, but everything else is in that display; even the 'N' of PRND and your mirror adjustment.
'Hey Nomi!'
If you think that means a lot of tedious poking through menus, you're right. Were it not that Nomi, the cute little ball that nods and blinks on top of the dashboard, can help you with it. Say 'hey Nomi, adjust my mirrors' (a Dutch variant is coming soon) and the controls for your mirrors will immediately be located under the two thumb pads on your steering wheel.
Nomi waves or yo-yos when she's bored and can also make jokes (about that talking tomato – classic) or open and close the roof. She doesn't want to open your door or put the car in 'D', so we can't go completely into idle mode. Sometimes Nomi also drives you insane.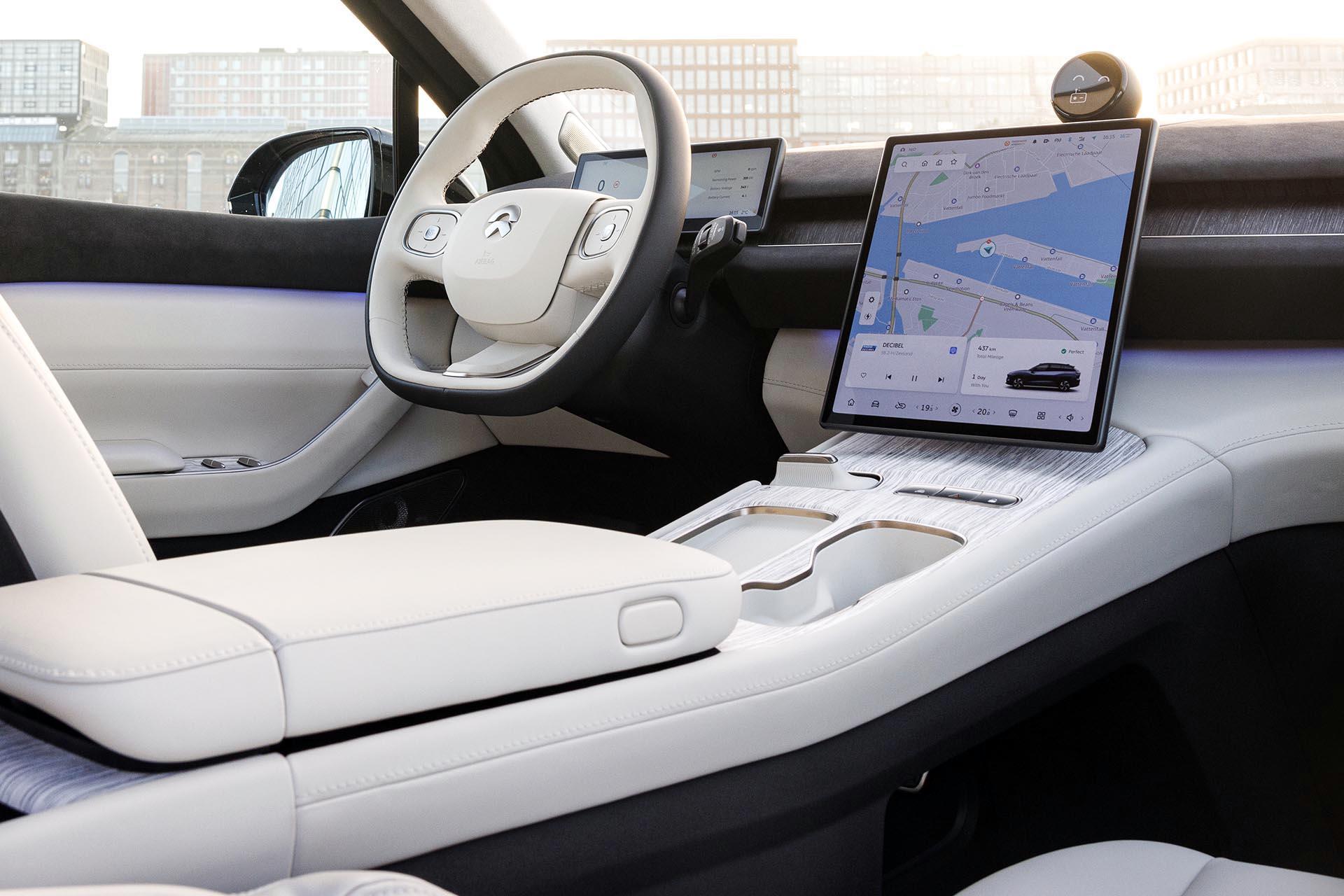 Nomi watches over the interior. Funny, but whether executives can also appreciate her … | Photo: © Nio
When you start driving for the first time and look away from the screen for even a second, she immediately beeps: 'Please stay focused!' So all operation must be via the touchscreen, but we are not allowed to look at it? Nio indicates that Nomi behaves less panicked when she gets to know your face better – also a bit creepy, but good. By the way, all those assistance things can be switched off, so if you're fed up, no man overboard.
How fast is the Nio EL7?
Apart from the hum of Nomi's movements, it is blissfully quiet in the Nio EL7, and with 652 hp and 850 Nm from two electric motors, it is terribly fast for such a stunner. Exactly how fast, that differs per driving mode. They are classified according to acceleration time from 0 to 100: Sport is 5.9 seconds, Sport Plus is 3.9 seconds, Comfort and Eco are a bit more relaxed.
The ride height adjusts, the pedal response goes from smooth to razor sharp and the steering gets a bit heavier, but always feels a bit disconnected and distant. As if all your input goes through a down pillow. The air-suspended chassis is not overly soft, but let's say 'European comfortable', apart from a somewhat stiff rear axle with some bumps and thresholds.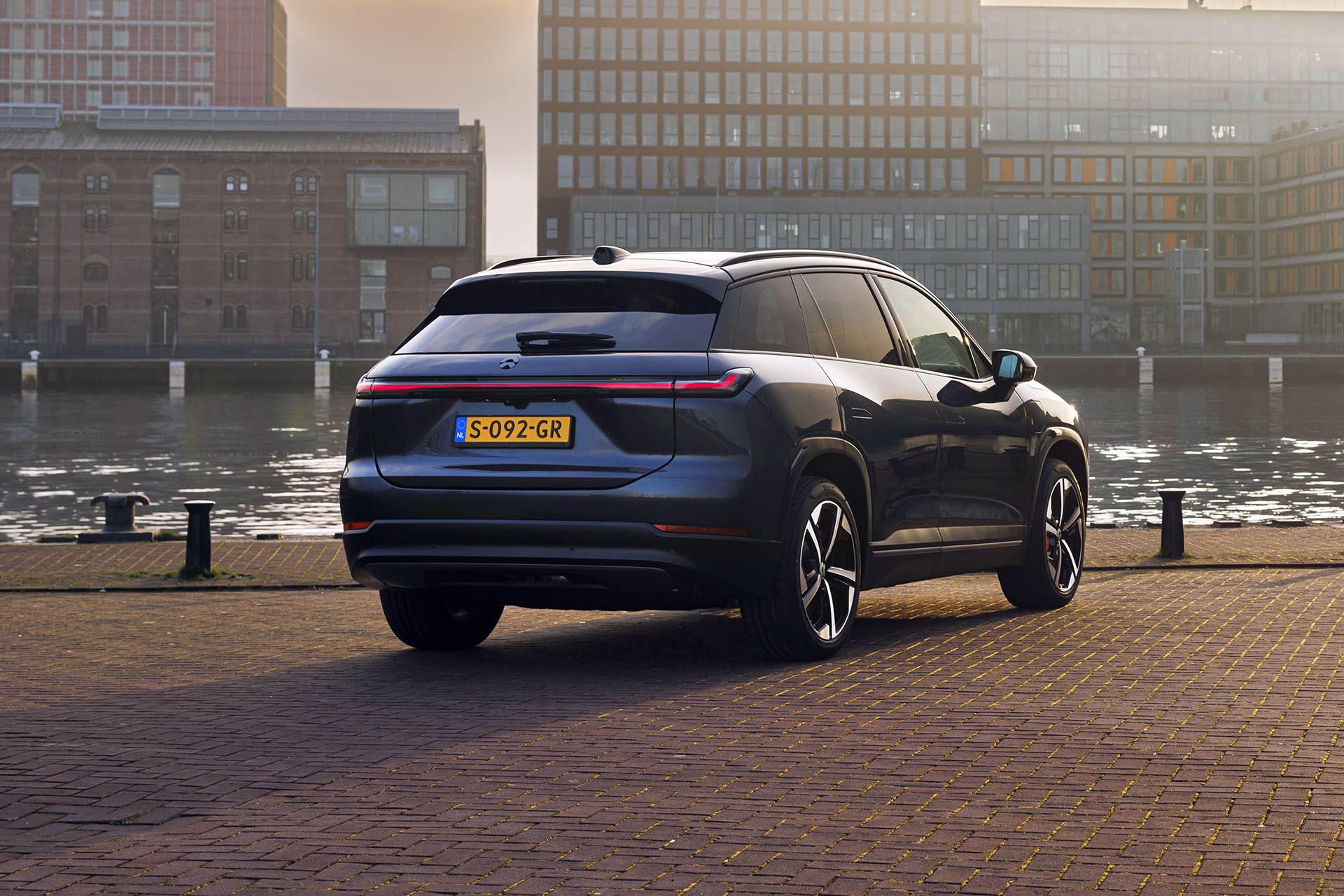 Although the body consists of aluminum and carbon fiber, this EL7 still brings quite a bit of weight. Incidentally, it can pull 2,000 kilos. Depending on the chosen battery and wheel size, the WLTP range is between 367 and 509 kilometers.
So, chance of success?
With all the effort Nio has made to create a beautiful and refined car and to shape the entire concept around it, we can take the brand seriously. There have been many successful brands at home that could not gain a foothold in the critical and demanding Europe, but the Nio concept just might succeed. Especially when the cheaper ET5 appears soon.
What is the cost of the Neo EL7?
We already touched on the Nio House: somewhere a bit utopian (who has time to join a new community with every purchase?), but typical of the intended brand experience. One is now opening in Rotterdam and soon in Amsterdam; Belgium follows quickly. Such a House is therefore not a dealer, but 'a place to come together' – you can order your Nio EL7 online from (quickly available) stock.
You can choose from purchase with full ownership or purchase with BaaS (Battery as a Service). You then pay 76,900 euros for your EL7, rent the battery (169 euros per month for 75 kWh, 289 euros for 100 kWh) and can also exchange it at Power Swap Stations. Four of these are now in the Netherlands: in Utrecht, Apeldoorn, Tilburg and Den Hoorn. Soon they will also appear in Dordrecht and Harmelen. A battery change takes about five minutes.
If you prefer not to buy, you can also take out a subscription with Nio. This can be fixed for 36 months from 1,369 euros per month (15,000 kilometers per year) or via a flex construction with a notice period of two weeks, for a minimum of 1,759 euros. Big money, but hey: then you will lead the Nio life.
Specifications of the Nio EL7 (2023)
Motor
2 electric motors
652 pk
850 Nm
75 kWh (battery)
Drive
four wheels
stepless
Performance
0-100 km/u in 3,9 s
top 200 km/u
Consumption (average)
22.0 kWh/100 km The label
Range (assignment)
391 km (WLTP)
Loading time
6 hours 45 minutes at 11 kW
33 min. at 140 kW (80%)
Dimensions
4.912 x 1.987 x
1.720 mm (l x b x h)
2,960 mm (wheelbase)
2.346 kg
570 / 1,545 l (luggage)
Prices
€ 88.900 (NL)