The actress came to 'Pasapalabra' to give her all and she demonstrated it in her first track in which she dared to 'perrear' with Roberto Leal.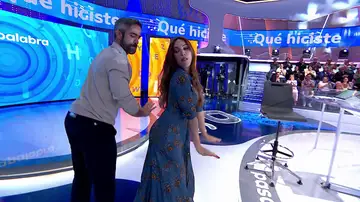 In their second program, the two guests faced each other on 'La pista' for a song from 1956.
After hearing the first musical notes, Nerea Garmendia was the first to press the button. The actress believed that the theme of 'La Pista' was Casablanca, an answer that Roberto Leal has given as incorrect.
Both guests couldn't find the title of the song in 'Pasapalabra'. Roberto Leal has given them a key clue: the words that the title of the song contained in disorder.
Nerea Garmendia has been the fastest, but, when it comes to ordering the title, she has made a mess, leaving all the advantage to Jero García to guess. "How stupid!" The Basque actress exclaimed when she saw that her rival had the upper hand. A fun moment full of competitiveness between both guests.