The guests have started their second program of 'Pasapalabra' with a bang. Given Miguel Ángel Muñoz's joke about 'La Pista', Mónica Cruz has had a forceful response towards her partner.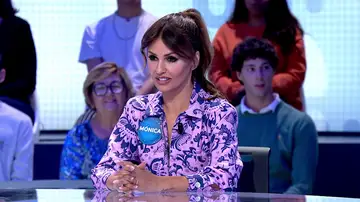 A scuffle between the actors of 'UPA Next', before which Roberto Leal intervened, "will 'La Pista' be able to break a friendship of so many years?" the presenter of 'Pasapalabra' asked the guests.
The song is from 1972, a year with which Mónica Cruz has messed with Miguel Ángel Muñoz, "he catches you fatal" the actress told her partner.
When the first notes of the song sound, Miguel Ángel Muñoz is the first to press the button. "Have you really hit it before me?" an incredulous Mónica Cruz asks Roberto Leal.
Finally, the actress wins over her rival's failure to hit the well-known song 'Noelia' by Nino Bravo.