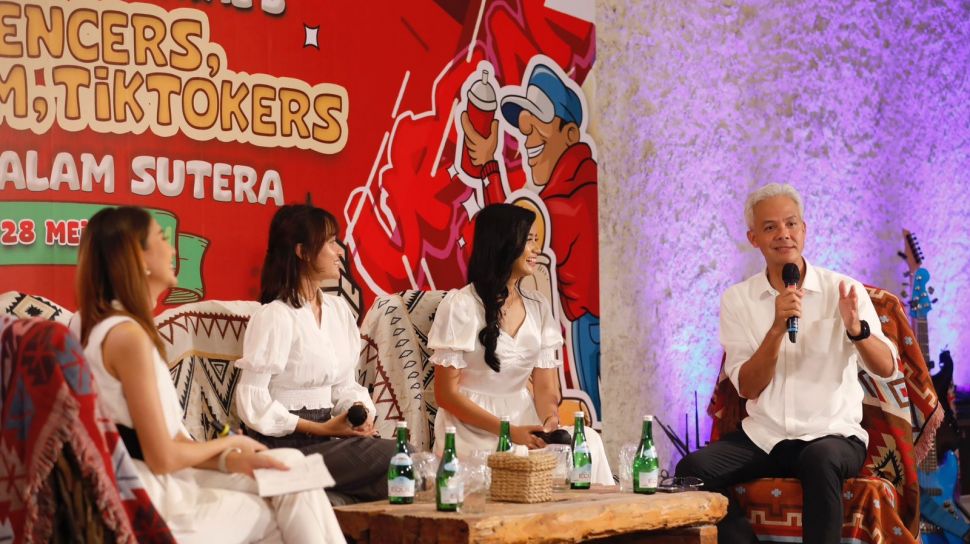 Suara.com – As a leader who uses social media to communicate with the public, Ganjar Pranowo encourages the millennial generation and generation Z to optimize social media properly and as well as possible.
This was conveyed by the 2024 presidential candidate (bacapres) from PDI-P, when he was a guest speaker at the Talkshow Millennials With Gen Z and Millennials Influencers, Selebgrams, TikTokers at Hey Beach Alam Sutera, North Serpong District, South Tangerang City.
With the theme 'Positive and Negative Impacts of Using Social Media on Millennials', the event was attended by 400 millennials and generation Z, including influencers, celebgrams and TikTokers who have many followers on social media.
"Some of them are his business and then he can inspire others. So the creative process of young generation Z, the millennial generation needs a place so they can develop," said Ganjar, written Monday (29/5/2023).
Also Read: Affected by 47-second video issues, netizens ask Fadly Faisal not to leave Rebecca Klopper
Ganjar said that social media for millennials and generation Z today can be processed into various purposes. But of the many benefits, Ganjar encourages the creation of positive things that can be used as material to inspire one another.
For example, using social media as a business field that can provide benefits. This is because many people currently rely on social media to find their needs, including online shopping.
Ganjar mentioned the importance of mentoring and providing a forum for young people in channeling their talents and skills, so that millennials and generation Z are not rigid and can use social media according to the times.
"The good ones will work, now what we haven't taken is to get assistance. It's because of the creative process of these children that makes this country able to show tens of millions, hundreds of millions of talents emerging from great individuals," said Ganjar.
One of the talk show participants named Heru, revealed his experience of getting a lot of lessons from Ganjar. Especially in the question and answer session, Heru had the opportunity to be one of the questioners directly to Ganjar.
Also Read: Today Ganjar Pranowo Pilgrimage to Banten, Meets Jawara, Ulama to Millennials
In his view, Ganjar is a leader who is young at heart, simple, not rigid and flexible so that he can be accepted by many groups, including young people.
"If I see Pak Ganjar, he is indeed a creative figure, yes, even though he is far above millennial, he can position himself and can be accepted anywhere. A very inspiring leader," said Heru.
The man who has 164 thousand followers and 2.8 million likes on his TikTok account uses his account with the content of his daily work as an online motorcycle taxi. Heru also often sells live on TikTok to supplement his income.
From the knowledge taught by Ganjar about the use of social media, Heru also admitted that he was more enthusiastic about filling out more creative and positive content so that more followers and interested buyers would be more.
"With Mr. Ganjar, this gives more enthusiasm for friends to be able to continue to the next step, not only as content creators, but can continue to develop. Maybe you can become a leader, you can become an entrepreneur. Anyway, Mr. Ganjar is cool," said Heru.