Marta is on her way to her 28th program on 'Pasapalabra'. She still has to earn it by overcoming the 'Blue Chair', a test so uncertain and that makes the contestants so nervous that it causes moments like the one she has starred in when Roberto Leal and Cristina have welcomed her.
"I want to send a greeting for what may happen", explained Marta, surprising everyone for this prudence and, at the same time, mistrust before the 'Blue Chair' exam. It is clear that experience is a degree and perhaps precisely for this reason the contestant knows that she can pass anything in this test, with as much or more at stake than 'El Rosco'.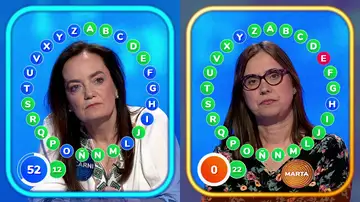 When he has finished his greeting, he has affirmed: "Now I can lose calmly." At the moment, she is still in contention and fighting for the jackpot and also for that goal that she revealed in an exclusive interview for our website: to reach 100 programs.