The 'Silla Azul' always leaves a bittersweet feeling when it causes a relay in 'Pasapalabra': joy for the one who arrives, sadness for the one who leaves. In this case, Marta has been eliminated after 30 programs, in which she has become part of the great family of this contest.
Marta has experienced a very emotional duel against Adrián, the applicant who has managed to unseat her. She has made her first mistake after going blank with one of the questions that Roberto Leal has asked her. Her rival also made a mistake soon after, so the two have had a suspenseful toss-up.
A "superstition, false belief", as the presenter has read, has once again left the contestant without an answer, while she began to assume that this second slip made her say goodbye to 'Pasapalabra'. Of course, leaving a great mark and taking an accumulated prize of 18,600 euros. Do not miss the duel in the 'Blue Chair' in the video!
In addition, his 21 duels against Encarni are already a benchmark of the contest. They have always been very even, demonstrating the high level of both. In fact, Marta has been one word away from winning the jackpot on two occasions.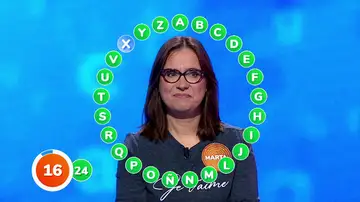 Marta says goodbye taking all the love from 'Pasapalabra'. As always, this is not a goodbye but a see you soon.