What Josie has done in this eighth gala of 'Your face sounds familiar' has been written in gold letters in the history of this program. Her imitation of Villano Antillano has probably become one of the best performances of this tenth edition.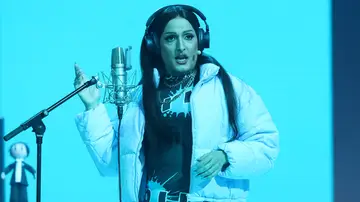 But, regardless of whether or not it is the best, it has been the most difficult to achieve. And Manel Fuentes has shared, after a thunderous ovation from the public, jury, and contestants towards Josie, a little secret that has not been seen on television, and that magnifies what the contestant has done on stage.
It turns out that the contestants always have a reference screen with the lyrics of the song. But Josie, in this issue as West Indian Villain, had no such help. Manel's comment has unleashed another standing ovation for the contestant, who has faced a song with the lyrics "the longest, most complicated and with the most different rhythms that has existed in eleven years of 'Tu cara me suena'".
Manel finished his speech by confessing that if he could vote, he would give him 12 pure gold coins. And it is not for less, public and jury have agreed with the presenter, crowning Josie as the winner of the gala. Relive this moment in the video!