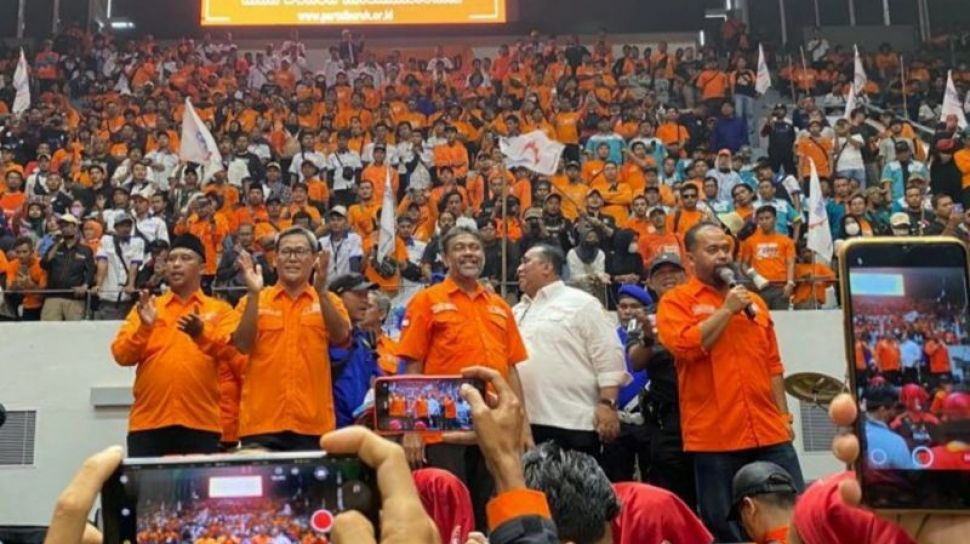 Suara.com – The Labor Party held the 'May Day Fiesta 2023' at Istora Senayan, Jakarta, Monday (1/5/2023). The event is part of the Labor Day commemoration which falls on May 1 every year.
Before the action was held, it was said that the Labor Party would introduce a presidential candidate that it would support in the 2024 presidential election. President of the Labor Party and President of the Confederation of Indonesian Trade Unions (KSPI) Said Iqbal revealed a number of things related to the figure of the presidential candidate.
Said Iqbal admitted that the Labor Party had invited two candidates for president. They are Ganjar Pranowo as vice president of PDIP and Anies Baswedan, vice president of the Coalition for Change.
But unfortunately, the two presidential candidates were not present to fulfill the invitation to the Labor Party event. According to Said Iqbal, Ganjar Pranowo gave a response but could not attend.
Read also: Make sure workers and workers in Medan are covered by BPJS, Bobby Nasution: We have to go around
Meanwhile, Anies Baswedan did not respond at all. One other figure who is predicted to become presidential candidate, namely Prabowo Subianto, was not invited.
"The one who responded was Pak Ganjar Pranowo but he could not attend because his political party called him," said Said Iqbal, Monday (1/5/2023).
According to Iqbal, it is possible that Ganjar's absence is due to preparing for the upcoming election campaign. Meanwhile, Anies Baswedan did not respond to the invitation sent to attend the "Mayday Fiesta 2023".
The labor action that was held at Istora Senayan has been going on since morning. At around 10.00 WIB, two giant posters were displayed as tall as the Istora building which contained a number of demands from labor elements.
Orange posters also surround the fence around Istora Senayan close to the pedestrian path. Police officers have been on guard from the entrance to Gelora Bung Karno to the Istora Senayan building to carry out security so that the workers' action runs in an orderly and smooth manner.
The commemoration of International Labor Day took place with several gathering points, starting from the City Hall, continuing to the Merdeka Palace and the Constitutional Court (MK) Building, to Istora Senayan by holding the "May Day Fiesta 2023".
Also Read: Bobby Nasution Wants 100 Percent of Workers and Workers in Medan to be Covered by BPJS
"One of the activities in the 'May Day Fiesta', namely the Marsinah Theater and Music Performance," said Said Iqbal who claimed that the commemoration of International Labor Day was attended by 50 thousand workers.