In an edition that is having such a high level and in which the singers seem to be a step above the rest of the contestants, what Josie has achieved in 'Your face sounds familiar' is simply wonderful. She has taken the victory of the eighth gala thanks to her tremendous imitation of Villano Antillano. Not even Miriam Rodríguez, wonderful as Amy Winehouse, has been able to snatch this well-deserved moment of glory.
Not even the words came out to Josie to become the champion of the night. Visibly moved, even shedding a few tears, he has collected the reward for so much work, enthusiasm and perseverance. His imitation of Villano Antillano has achieved a historic full 12, both among the members of the jury and by the public. He had the right ingredients: a viral hit, a singer who is one of the most demanding voices in the LGTBI community, Bizarrap's arrangements and impossible lyrics. Josie has pulled it all off and flawlessly.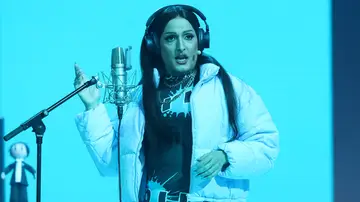 There were many and very good candidates for victory in this gala. Jadel, who has been the leader of the classification for weeks, is one of those who has fought Josie for the victory. Hers Bruno Mars has had sensuality, romanticism and a lot of flow with 'Versace on the floor'. Miriam Rodríguez has been no less brilliant, perhaps with the best Amy Winehouse seen in 'Tu cara me suena' and, furthermore, with one of her biggest hits: 'Rihab'.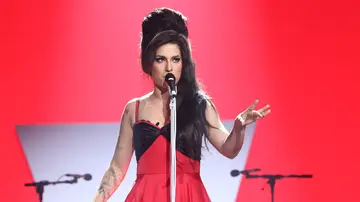 With Jadel and Miriam, the hair department has had so much work to do that turning Caramel Susi into a blonde hasn't been suspenseful anymore. Thanks to her, Raffaella Carrà has had a tribute that already seems indispensable at some point in each edition. In addition, it has been very meritorious that she has overcome so much choreography without drowning herself in singing. However, she has not been enough to stand out in the scores of the jury, that she has only valued her partner Agustín Jiménez worse. 'La casita de papel' by the Topolino Radio Orquesta has been as sweet as it is out of tune, although her sense of humor always deserves extra points.
In the sweetened section, the number of Alfred García already promised an excess of sugar. He has traveled to his adolescence and that of Zac Efron to become Troy, he has found his Gabriella thanks to Marina Carmona and the two together have sung 'Breaking free', taking an entire generation back to the times of 'High School Musical'. In this journey through time, Andrea Guasch has gone back even further to imitate Jerry Lee Lewis with 'Great balls of fire'. Not even with her first sex change has the contestant lowered her level, equally surprising with this vocal register.
There were many expectations to see Merche again, after her absence at the last gala. Now fully recovered, she has given a lesson in power on stage as Isabel Pantoja. The contestant has wasted art in this number with 'El moreno'. And one of the great ovations of the night has been for a pop star who has visited the set: Ana Torroja. Few voices are more personal and special than hers, but Anne Igartiburu has overcome the challenge with the magic that creates a song as iconic as 'Un año más'.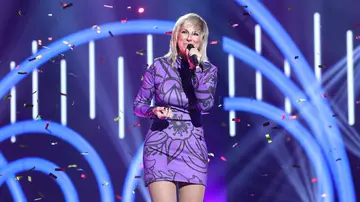 All that remained was to put the icing on the gala with the guest. Diego Arroyo, lead singer of the band Veintiuno, has imitated Robbie Williams with 'Candy'. His number started sweet but ended late, with the stage full of balloons and the bassist and guitarist literally flying through the air.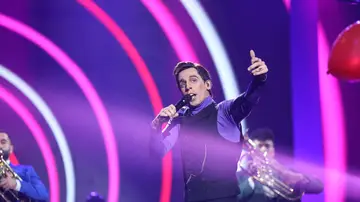 This is the feeling that remains after the eighth gala of the tenth season: a party that does not end and that feeling of maximum joy experienced by Josie. It is the demonstration that the effort and commitment have the reward of her. For this reason, all her companions have rejoiced as much as if the victory were hers. Long peak!