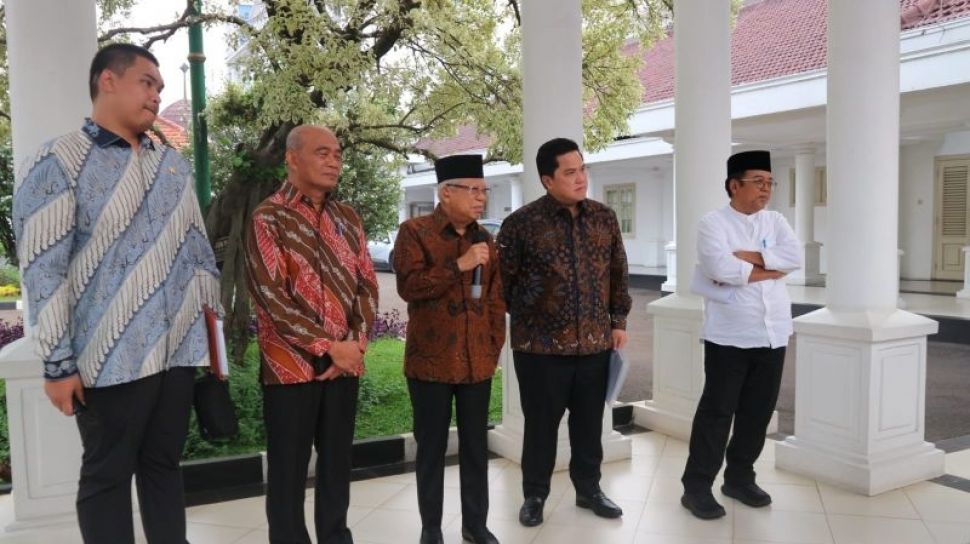 Suara.com – Vice President Ma'ruf Amin hopes that the Indonesian football national team will not suffer too many defeats when they compete against Argentina in the "FIFA Match Day" match at the Bung Karno Stadium, June 19.
"Not winning, (but) don't lose too much," the vice president said in Jakarta as quoted by ANTARA, Tuesday (30/5/2023).
This was conveyed by the Vice President when refuting the statement of the Coordinating Minister for Human Development and Culture Muhadjir Effendy who hoped the national team would win against Argentina. The Vice President's answer made the ministers, officials and journalists at the location laugh.
The conversation took place after the Vice President chaired the Ministerial Meeting on the Grand Design of the National Sport (DBON) at the Vice Presidential Palace.
Also Read: Viral, Moments of Inter Milan Players Imitate Joget Marselino Ferdinan and Pratama Arhan
Initially the vice president was asked whether he would witness the national team match against Argentina at the GBK Stadium. The Vice President admitted that he really wanted to witness it in person if there was time.
"Wow, God willing, if I have time, if I have time I will watch it (live)," said the Vice President.
The Vice President then said that Argentina is the holder of the world title, and has won the world cup title three times, respectively in 1978, 1986, and finally in 2022.
Therefore, realistically the Vice President hopes that the national team can at least provide resistance when serving Argentina.
"Yes, Argentina is the world champion. (Hopefully) can balance the game. There shouldn't be resistance, you have to be able to fight back," said the Vice President.
Also Read: Argentina Asks PSSI to Keep the Schedule for the Arrival of the National Team in Indonesia Secret
He said defeat was another matter, but putting up a fight and being able to present a good game was a story in itself.