The latest evolution of the racing supermoto confirms its unparalleled performance and gains an even more premium look
5 maggio 2023
The FS 450 is powered by a proven engine 450 cc 4-stroke single shaft, whose characteristics can be personalized thanks to the intuitive multifunction selector located on the handlebar which manages the launch control, the traction control and the innovative Quickshifter, which allows precise and controlled gear engagements even at maximum acceleration.
The steel frame hydroformed chromium-molybdenum ensures excellent levels of feeling for the rider, while the polyamide-reinforced aluminum frame contributes to improve dynamics and driving comfort. With its engine positioned in the frame to improve mass centralization and the latest generation WP suspension, the FS 450 offers an exceptional driving experience on the track for riders of all levels.
Featuring premium race-developed components like wheels Alpinathe anti-hopping clutch Suter ei freni Brembothe FS 450 was born to race.
Here are some features to highlight for the all-new 2024 model:
New graphic scheme in gray and yellow for a distinctive look New high-grip saddle cover that improve control in strong accelerations
Ergonomics designed to facilitate movement on the saddle
Hydroformed engineered chrome-molybdenum steel frame to reduce rear end squashing and lifting under acceleration (anti-squat effect) Tested single-shaft engine with performance at the top of its category and very low weight
Quickshifter for upward shifting without interruption of torque Hydraulic actuation of high-performance Brembo clutch Frame with aluminum-polyamide hybrid construction, which achieves specifically calculated stiffness values ​​and superior durability
Forcella WP XACT 48 with AER technology and progressive damping at the end of the stroke
WP XACT monoshock with CFD-optimised main piston and tool-free adjustments Multi-function map selector which also activates Quickshifter, traction control and launch control Premium quality Pro Taper handlebars Electric start powered by a lightweight 2.0 Ah Li-Ion battery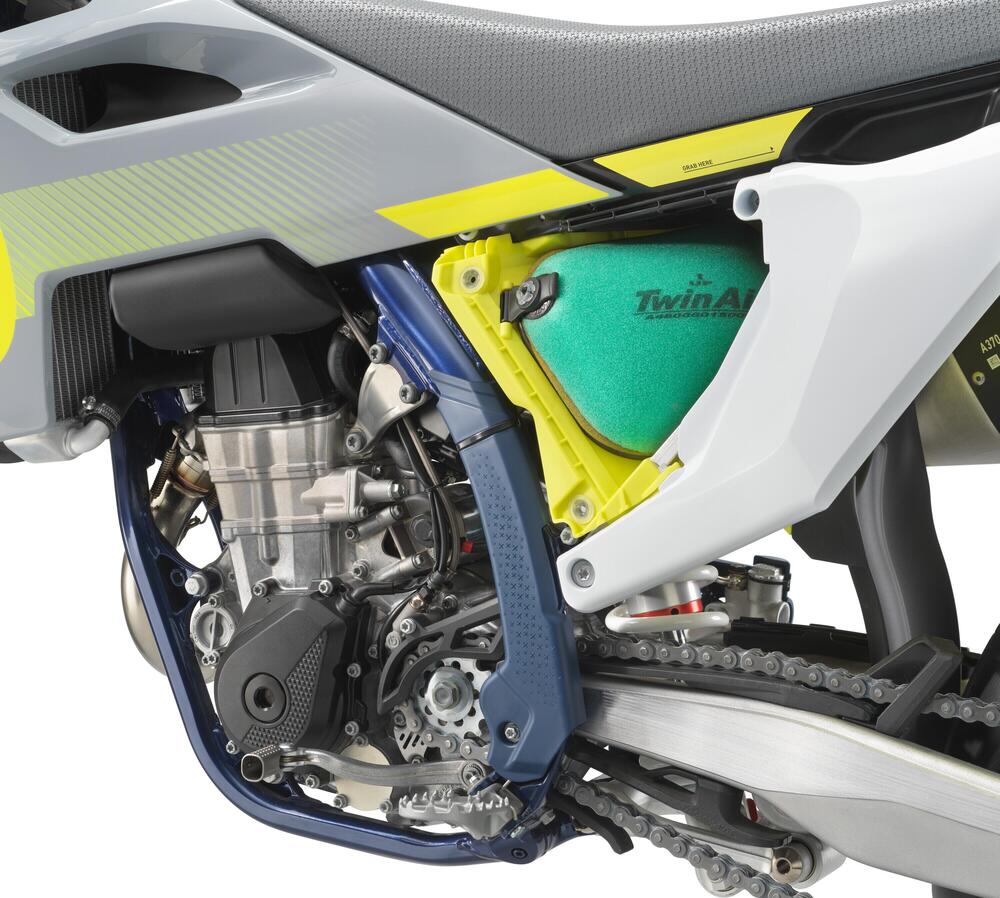 A selection of high-quality Technical Accessories is already available at Husqvarna Motorcycles dealers, allowing every rider to personalize his FS 450. Each of these special parts is designed toTo improve performance, reduce weight or increase durability of this supermoto model. And to increase rider safety without limiting performance, the collection of premium Supermoto-specific Technical Clothing combines innovative technical features to improve comfort, protection and style.
The 2024 FS 450 will soon be available at Husqvarna Motorcycles dealers at the price of 13,190 euros.