<!(CDATA(
Hugo and Rocío have spent the night together in the pharmacy and, finally, they have given free rein to their love. She has managed to leave her fears behind and become intimate with the former soccer player.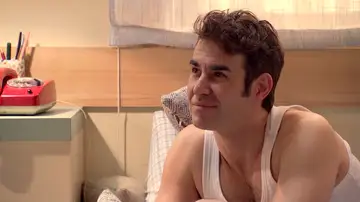 The couple is going through a good time, everything is happiness and rosy for them. In their underwear, Hugo and Rocío are having breakfast at the back of the pharmacy when they hear someone knock on the door.
Someone wants to enter the pharmacy! But if they haven't opened yet… Anyway, Hugo puts on a robe and opens the door in case it's an emergency. Suddenly Marcelino, Pelayo and Sebas appear, who find themselves with an unexpected panorama.
Hugo and Rocío in underwear! And in the pharmacy! The neighbors have broken the magical moment that the pharmacists were having, they don't know what to say or where to look, and they leave early to give them more privacy. What a catch!
))>