Another first for Günter Schachermayr, the Austrian stuntman committed to achieving the highest possible number of entries in the Guinness Book of Records for his feats on a Vespa
12 maggio 2023
This time the Austrian stuntman grappled with a Guinness World Record on the starting straight of the Red Bull Ring circuit by Spielberg in front of an audience of 30,000 on the central grandstand.
Gunter's goal was to cover a wheelie, blindly and in apnea, a slalom of a quarter of a mile (402 meters) zigzagging between 60 pins. To make it more spectacular, the front wheel of the Vespa was eliminated and Schachermayr fitted a black bag over his head which blocked his view and did not let the air pass. It was in these conditions that he faced the test, following the commands transmitted by radio from the trailer towed by a car that was driving alongside him.
To face the test in the best possible conditions, 15 minutes before the start Günter underwent hyper-oxygenation with medical oxygen. He made it and set a new record but even with this help it was tough and he got to the end upset. He had trained for a long time and the performance lasted 2 minutes and 17 seconds, a more than reasonable time to hold his breath, but in those conditions the situation is made more difficult by the attention and concentration needed to maintain balance and drive at the same time on one wheel.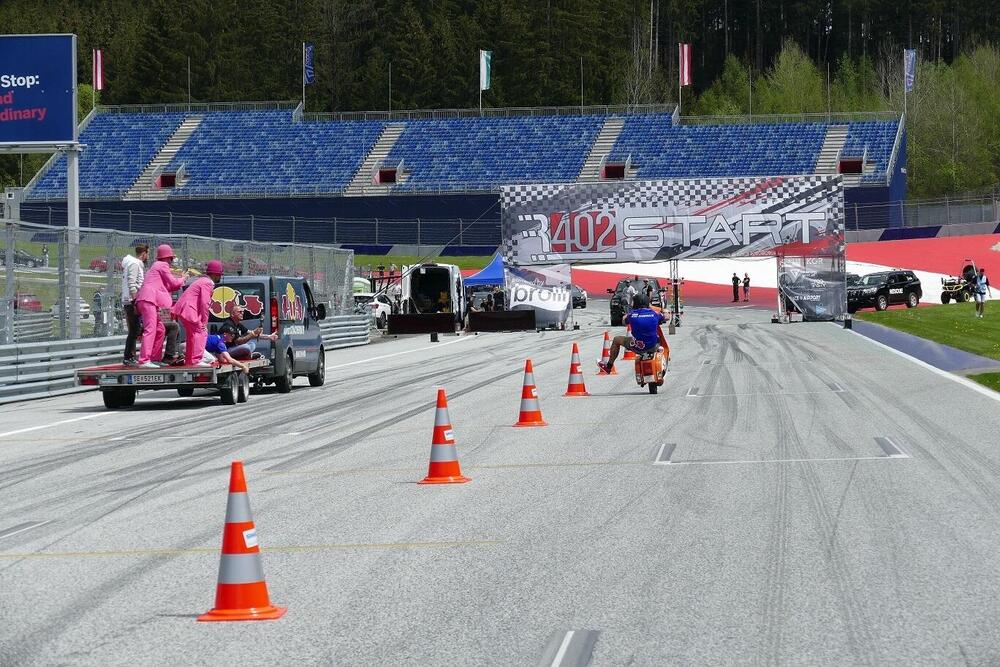 "This black face mask does not let the air through and is tightened by the closure around the neck – said panting Schachermayr, 45 years old, just after the test – . After the first 100 meters your ears start to buzz, after 200 meters you struggle to hear the commands that reach you via radio, after 300 meters you can only find your way around and then the fight for survival begins! Towards the end I panicked but I made it and I'm thrilled to have set a new world record!".
As required by Guinness procedures, all documentation, footage and images were sent to Great Britain for registration of the record in the Guinness Book of World Records.
Crazy right?